No court 'for some serious crimes', FOI request shows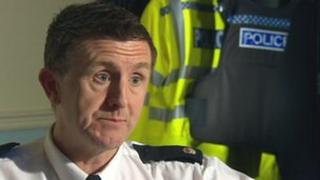 Offenders behind serious crimes such as sex assault and use of indecent images of children were punished without going to court, police figures show.
The figures were given to a Shropshire magistrate after the official submitted a Freedom of Information request to West Mercia Police.
A West Mercia spokesman said the force dealt with half of all crimes out of court last year.
He said non-court punishments were only used for low-level offences.
However, the FOI figures obtained by the magistrate - who did not want to be identified - showed some serious crimes were also dealt with out of court.
Cases that do not go to court are not recorded on a national database.
Supt Steve Cullen, from the force told BBC West Midlands Politics Show: "It would be exceptional for those type of cases, the more serious end of cases, not to go to court if we believed the evidence is there to do so.
"There will be some occasions where actually those have been dealt with outside of the court process with the clear consent of the victim, with the defendant admitting the crime and with the senior oversight of a senior officer and with someone from the CPS."
Latest figures from the Ministry of Justice showed that the West Midlands, West Mercia and Warwickshire forces each dealt with over a third of offences by themselves in 2009.
Nationwide research by the Magistrates' Association showed offences including child abuse, "child pornography" and other offences "like that" were either dealt with by cautions or penalty notices for disorder.
John Thornhill, of the association, said: "They (police forces) are stepping over into dealing with matters and offences which should properly be dealt within the justice systems within a court of law."
Solicitor John McMillan, who has been dealing with cases in the West Mercia area for 40 years, said police were dealing with more crimes out of court to save money.
"It's a cheap and cheerful way of dealing with things, sweeping them under the carpet, that's what it's doing," he said.
"It's just getting crime, lifting up the carpet and shoving it under and saying it hasn't really happened - the public don't know about it, 'haven't we done well'."