Veteran cars take part in London to Brighton rally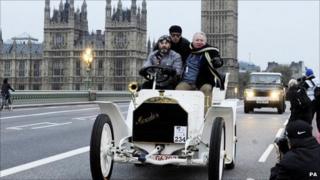 More than 500 veteran cars have taken part in the annual London to Brighton rally.
The vehicles left Hyde Park at sunrise to travel the 60 miles to the event's finish line on the south coast.
The oldest car was an 1894 Benz Velo, driven by the event's youngest driver, 17-year-old Oliver Wright from Skyreholme, North Yorkshire.
It is not a race and is described by organisers, the Royal Automobile Club, as "an endurance of man and machine".
A quarter of drivers came from overseas, including competitors from America, Australia and China.
Organisers said 26 Germans to take part to celebrate the 125th anniversary of Mercedes-Benz.
And former F1 world champion Nigel Mansell drove a 1902 Mercedes Tonneau with Mike Penning MP.
Cathy Metcalfe, one of the event's organisers, said despite the age of the cars it was only "very rarely" that they dropped out before the start.
"They usually all start. About 90% of them get to the finish," she said.
Emancipation Run
A spokesman for the rally estimated 450 cars finished the run.
The cars had travelled at an average speed of between 20mph and 25mph, mostly down the A23, through towns such as Redhill, Horley, Crawley and Preston Park.
The last car got into Brighton at about 16:30 GMT.
Cars taking part must have three or four wheels and date from before 1905.
The rally commemorates the "Emancipation Run" in November 1896, which celebrated the passing of the Locomotives on Highways Act that raised the speed limit from 4mph to 14mph.
It also abolished the requirement for a man to walk in front of the vehicle.