Dorset's Farmer Palmer's Farm Park hit by fire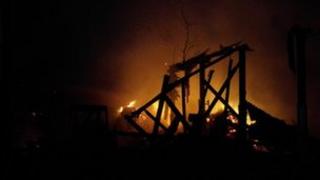 More than 30 firefighters have tackled a large fire at a popular visitor attraction in Dorset.
The fire began in several buildings at Farmer Palmer's Farm Park near Poole, destroying a Santa's Grotto.
A large amount of straw and timber acted as fuel for the fire, which began in the early hours, Dorset Fire and Rescue Service said.
Dorset Police closed a nearby road and told neighbours to stay inside and close windows and doors.
Fire safety officers have carried out an inspection of the site and said it was safe to open to the public as the main attraction had not been affected.
No animals were injured except a barn owl that was rescued from one building and taken to a vet.
A fire service spokesman said the fire was possibly started by faulty electrical units but the service was not ruling out arson due to a number of recent barn fires across the county.
He added that the farm park wanted to reassure visitors the Santa's Grotto would be replaced "in plenty of time for Christmas".