Lewes bonfire sees dozens injured in firework accidents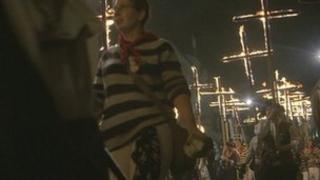 Ambulance workers treated 170 people, with 22 being taken to hospital, as more than 60,000 people took to the streets of Lewes for bonfire night.
South East Coast Ambulance Service and St John Ambulance said most were relatively minor injuries but two were serious head injuries from falls.
Police said there were a large number of firework injuries in the streets.
Plain clothed Sussex Police officers were in the town for the first time and confiscated a number of fireworks.
Supt Tony Blaker said there had been appeals to people not to take their own fireworks.
Bonfire and firework displays are held at various locations around the town after the parades.
'Incredibly popular'
A total of 15 people were arrested, most for drunken behaviour, possession of drugs and minor assaults.
But there were no serious incidents of violence or disorder which meant the number of arrests was half that of last year.
East Sussex Fire and Rescue Service dealt with about 12 small fires.
Last year's bonfire celebrations in the town were attended by about 40,000 people with 20,000 arriving by train.
This year, police said 33,000 travelled by train.
"The Lewes Bonfire continues to be an incredibly popular event and it would appear that many more people attended this year's event compared to last year," said Supt Blaker.
"This may have been due to the dry weather and the event falling on a Saturday night."
Ch Supt Robin Smith said it was a relatively peaceful event considering the numbers attending.
The six Lewes bonfire societies are among dozens in the South East which raise funds all year for the celebrations, based on centuries of tradition.
One of the biggest is at Edenbridge, in Kent, where the identity of a celebrity guy is kept a closely-guarded secret until a few days before 5 November.
This year a 40ft (12m) tall effigy of Manchester City footballer Mario Balotelli was set alight.
Kent Fire and Rescue Service said there were no major incidents in the county on Saturday night.
"We went to a few false alarms which turned out to be bonfires, which happens every bonfire night," said a spokesman.