Lewes bonfire celebrations attracting up to 60,000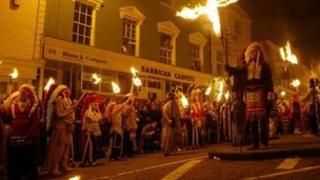 Up to 60,000 people were expected to celebrate bonfire night on the streets of Lewes as the East Sussex town held its biggest event of the year.
Parking was suspended on the main procession route from midday, with road closures in place from 17:00 GMT.
Lewes council urged people from outside the town to stay away but last year about 20,000 arrived by train.
About 400 police uniformed officers were being deployed, with plain-clothed officers also on patrol.
A 21-year-old man from Brighton suffered serious internal injuries when he was hit in the chest by a stray firework at the Landport recreation ground during the 2010 celebrations.
Experienced societies
But East Sussex Fire and Rescue Service said the overall number of incidents was no higher than on a normal day.
"The key requirement is common sense and a duty of care," said spokesman Garry Collins.
"The bonfire societies are well experienced - this event has been running for 150 years.
"Last year we had 14 incidents and that is no different to any other particular day."
Six bonfire societies take part in more than 30 processions every year, joining together for the main parade, the United Grand.
Later, bonfire and firework displays are held at various locations around the town.
The Lewes bonfire societies are among dozens in the South East which raise funds all year for the celebrations, based on centuries of tradition.
One of the biggest is at Edenbridge, in Kent, where the identity of a celebrity guy is kept a closely-guarded secret until a few days before 5 November.
This year a 40ft (12m) tall effigy of Manchester City footballer Mario Balotelli was being set alight.
Lewes bonfire societies also burn effigies, which are not revealed until the night. One year Lewes MP Norman Baker was chosen.
"I was leaning out of the town hall window with the Chief Constable, Roger Birch, and we both came down the road in parallel on poles," he said.
"I thought it was a very good likeness and rather endearing in a funny sort of way."
Businessman Tom Reeves said bonfire night was the glue that held the town together.
"When you know a lot of people in the town, then you look out at the procession and see your accountant and the guy who cleans the windows it is a total leveller," he said. "They are all dressed up in their costumes and everybody marches together. It really matters to people."