Arriva in Grand Central Railway takeover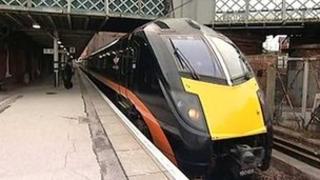 Transport group Arriva has announced a takeover of North East-based Grand Central Railway.
The company, which runs services to London from Sunderland, Hartlepool and Bradford, has been acquired for an undisclosed sum.
As an open access operator, Grand Central does not receive subsidy from, or pay any premium to, the Department for Transport.
It provides about 700,000 passenger journeys a year.
Tom Clift, Managing Director of Grand Central Railway said the company would remain a self-contained business with its own brand and identity, and would continue to be based in York.
He added: "The decision by Arriva, one of Europe's largest transport undertakings, to acquire Grand Central is a huge vote of confidence in all our staff who have worked so hard over the last four years to deliver the very highest standards of customer service to the growing numbers of passengers using our routes.
"I will continue to lead Grand Central and will report directly into Bob Holland, MD of Arriva's UK Trains division."
Mr Holland said: "Bringing Grand Central on board means we have a live open access operation up and running, one which is popular with customers and which we believe we can develop to become a key commercial part of our UK rail operations."