Flood alert in southern England: School closed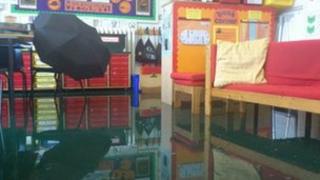 A school in Hampshire has been forced to close as severe weather alerts are put in place across southern and south-west England.
The Met Office has issued a "be prepared" warning, with heavy showers likely to bring surface flooding and travel disruption.
Flood alerts are in place across Berkshire, Hampshire, Surrey, Somerset, Wiltshire, Dorset and Devon.
Hampshire Police warned drivers roads were likely to be hazardous.
Cherbourg Primary School, in Eastleigh, was forced to shut after it flooded overnight.
'Belched back'
Head teacher Julie Greer said: "It's not something I've done lightly, but we really had no alternative.
"The massive amount of water that we had last night has somehow belched back out of the sinks and has flooded a third of the school."
West Sussex fire service was also called to deal with flooding at a shop and block of flats in East Grinstead on Thursday afternoon.
Farnham in Surrey recorded 53.4mm of rain in 14 hours.
Met Office spokesman Dan Williams said: "We are expecting to see heavy showers coming across from the South.
"Locally they could produce 30mm to 40mm in a period of a few hours, but because they are showers they are likely to be localised so some people could get away with little or no rain.
"If you do get a heavy shower that lasts for a while you could get some surface flooding, as drains can't clear it quick enough."
He added that rain would ease into the evening and weekend.