South East schools get £32m boost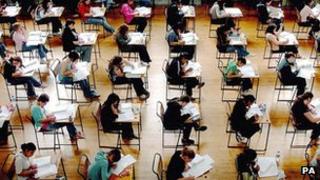 Schools in the South East have been given a boost with the announcement that they're to receive more than £32m in extra funding to increase the number of places available.
The Education Secretary Michael Gove has announced an extra £500m in all for local authorities which will boost the number of places.
It aims to help oversubscribed and cramped schools.
Surrey is the biggest winner and will receive £11,327,339.
It's followed by West Sussex which will receive £8,656,359.
Kent County Council will get £4,443,409.
Medway is next with £3,836,404.
East Sussex gets £2,541,730.
And Brighton and Hove will receive £1,478,846.
Final decision
Mr Gove is urging local authorities to "target resources at managing the shortfalls in pupils' places wherever they are most needed" and to take into account "the views of parents".
And after months of wrangling the Education Secretary Michael Gove has reached his final decision on Building Schools for the Future.
Kent County Council was amongst seven local authorities who went to court over the government's decision to scrap its Building Schools for the Future scheme.
Mr Gove announced back in July 2010 that he had decided to halt the Building Schools for the Future programme, in a bid to save more than £1bn.
His decision means that building plans, worth around £5bn in total, were stopped, requiring many contracts to be drastically scaled back.
The leader of Kent County Council, Paul Carter, said at the time that the county had got nearly 20 projects "past the point of no return", before the school revamps were halted.
Good news
Mr Gove has stuck with his decision not to give the local authorities BSF funding.
But he has now said the government will pay the value of the claimant authorities proven contractual liabilities.
So in effect if a council, such as Kent, has had to pull out of a contract and incurred costs for doing so they can now hope to get that money back.
It's good news for Kent County Council in the week it was announced that the troubled bank Dexia has returned £10m to the authority after being bailed out by the French, Belgian and Luxembourg governments.
And last week the council won a victory in Iceland's Supreme Court, which confirmed its status as a preferred creditor, and said it expected to get back most of the £50m.
The return of any money will be welcome at a time of big budget cuts but it won't help those schools which are badly in need of repair and won't now be replaced with new schools.