Child Support Agency changes divide parents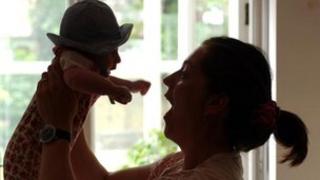 The Child Support Agency says absent parents in the East Midlands alone owe a staggering £211m in maintenance payments.
The coalition wants to ditch the CSA and replace it with a service that parents would have to pay towards.
But I've been finding out for BBC TV's Politics Show the scale of deep mistrust and anger at the heart of this whole issue.
Maintenance battle
Sally Marshall is a mother of two teenage children from Nottinghamshire and works part-time.
She has battled to get her ex-husband to pay maintenance.
"The real problems start in trying to retrieve any money when your ex-partner is self-employed," she told me.
"Normally, money can be taken at source through their employer and PAYE, but when they are self-employed that isn't the case."
Hers is one of the 88,000 cases in the East Midlands being handled by the CSA.
She is not convinced the proposed CSA changes will make it any easier, especially with the prospect of fees to use the new service.
'Radical reform'
It was back in 1993 that John Major's government introduced the Child Support Agency to pursue parents, mainly fathers, who failed to support their children financially.
But almost from the start, it was accused of hounding dads who were already paying up. It was also criticised for failing to help mothers.
Now the coalition government is planning what it calls "the most radical reform of child maintenance yet".
Soon, only parents who are victims of domestic violence will be given free access to the CSA.
For everyone else, there'll be charges.
There's also a new approach. Parents will be actively encouraged to agree the maintenance payments without recourse to the CSA.
Better access
The Department for Work and Pensions says it will be based on a new IT system and should be simpler, faster and fairer than the CSA.
There'll be better access to personal tax information which, it says, will also speed up the application process.
Clients will have self-service web access, enabling them to make payments online and to keep up-to-date with their cases.
If that fails, professional CSA help will be on hand, but at a cost.
That alarms Fiona Weir of Gingerbread, a charity that supports single parents.
"It'll really hit parents in the pocket. There'll be an upfront application charge of £100," she said.
"Then the parent, who's caring for the children, could be paying an additional charge of between 7-12% of the agreed payments.
"It'll be taking money from children who desperately need it."
'Not fair'
That particularly worries 26-year-old Natalie Johnson, from Kirkby in Ashfield.
The university graduate has been out of work since the father of her two young children walked out of the home.
Her attempt to agree maintenance payments with her ex-partner - as encouraged under the government's new thinking - collapsed when he became a father again by another relationship.
She's appalled at the coalition's plans to introduce fees.
"That money should go to the children," she told me.
"It's needed for the children's food, to pay for their school lunch, the bus to go to school, and for their school uniforms or their coat for the winter months.
"There's so much money that parents need to look after their children."
Sally Marshall also says the new fees won't help.
"Passing the cost on to the users is going to take money away from the children. It's just not fair," she added.
An improved and more efficient service - that's the government's hope in replacing the CSA over the next few years.
It may need early successes to avoid its new service becoming just as discredited.