Slough squatting victim backs law change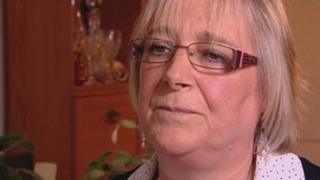 A woman whose dead mother's home was taken over by squatters says moves to criminalise the act cannot come soon enough.
The house in Slough, Berkshire, was left to Joy McCabe, her brother and sister when their mother died but stood empty for two years when it failed to sell.
During this period four squatters moved and claimed they were legitimately renting the property from a third party, through a website.
Mrs McCabe said: "We couldn't get in to our own property, they changed the locks, they stole it.
"My mum was in there for 50 years and we grew up there, all our memories are there."
Police said they could not intervene as it was classed as a civil matter forcing Mrs McCabe to go to court.
The squatters failed to turn up to the hearing but Mrs McCabe, who spent about £2,000 on legal costs, won a possession order and took back the home with the help of bailiffs.
The squatters, who left before the eviction, did not provide any evidence of their alleged third party rental agreement to the court.
Now, Mrs McCabe has backed a parliamentary bill that aims to criminalise squatting and leave offenders facing fines of up to £5,000 and/or six months in prison.
"I couldn't believe it was not a criminal offence, how can you move into a property which is my mum's house?," Mrs McCabe said.
"There isn't squatters' rights, there's no law that says squatters have got rights, there is just no law to get them out properly."
But Squatters' Action For Secure Homes say the current system with evictions through civil hearings is adequate.
"The government's proposals are not about protecting people in their homes, as they are already fully-protected," a spokesman said.
"The new laws are about protecting large-scale landlords and property speculators who leave buildings empty simply to up their profits.
"We are in the middle of one of the worst housing crises this country has ever faced and homelessness is spiralling.
"Criminalising the victims of this crisis is a violent and unjust response."
A squatter, who would only give his first name as Dan, is currently living in an empty house in Brighton and believes if a house is not being used it is a legitimate target.
He said he and his friends got into the Regency period home through an open window.
'Foul the place'
"We looked inside and saw it hadn't been used for some time and acquired entry," he explained.
"If you look at [David] Cameron's Big Society idea he wants people to take initiative to take control of their lives.
"The reason why some people find squatting a very good thing to do is because they are not dependent on the state, they are not going to claim housing benefit, they are saving the state money."
But Mrs McCabe, who was also left with a clear-up bill, says there is no excuse for occupying someone else's property.
"[The squatters in my mother's home] have just lived here thinking, 'We can live here for nothing and we can do what we we like, create as much mess as we want and foul the place'," she said.
"There were dirty towels, food left half eaten, there was what looked like blood on the floor, wet washing, dirty washing... I couldn't believe it.
"They might as well be on the street if they are living like that in a house."
You can find out more - including the stories of squatters in Brighton - by watching Inside Out on BBC One South on Monday at 19:30 GMT.