Donington Park granted permission to hold more race days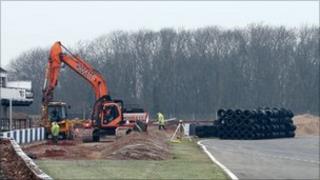 Donington Park circuit has been given the go-ahead for more race days for the next two years.
The motor racing venue was granted planning permission by North West Leicestershire District Council.
The circuit owners said the approval for 60 race days per year "was extremely important" to help ensure its continued success since it reopened.
Race director Robert Fearnall said: "This decision enables us to agree a full calendar for 2012."
The planning permission also incorporated a noise management plan which will see a reduction in the number of unsilenced race days from 40 to 20.
Kevin Wheatcroft, Donington Park's owner and executive chairman said: "We knew that we were going to have a tough time during the first 2 years of reopening Donington Park with the investment required to see racing again at Donington.
"Without this permission, keeping Donington Park alive was going to be increasingly difficult."
The venue had been in line to host the British Formula 1 Grand Prix but funding problems meant the project collapsed with construction incomplete.
Donington Park reopened last year after a deal was signed to restore the circuit.