Don Taylor 'killed himself and ex-wife' at Sussex home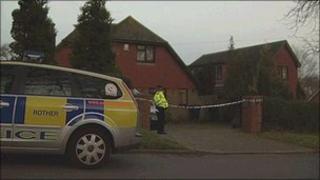 A retired company director who had a "volatile" relationship with his ex-wife killed her and then hanged himself, an inquest has heard.
Don and Audrey Taylor, who were in their 70s, were found in Collington Rise, Bexhill, on 16 February.
Their daughter, Karen Melhuish, said the couple may have had a row after her mother's beloved pet dog died.
A coroner at Hastings Magistrates Court recorded verdicts of unlawful killing and suicide.
The inquest found Mrs Taylor, 75, received two blows to her head but died from strangulation while Mr Taylor, 80, died from hanging.
'Exploded with rage'
The couple had been married to each other twice and divorced each other twice.
Mrs Melhuish said her parents "couldn't live with one another, but couldn't live without one another".
Her father had been very controlling of her mother and they had a "volatile" relationship, she said.
Mrs Taylor had kept her own home in Tunbridge Wells, Kent, since their first divorce, but appeared to have moved back in with Mr Taylor in September last year.
Mrs Melhuish said the death of the dog may have caused her mother to become "distraught and emotional".
"I think he would have taken whatever she said personally, which would have lit the fuse and then he would have just exploded with rage," she said.
"I believe that in that single second of anger he lost control, which would have culminated in the circumstances that unfolded.
"And then it would have been a case of remorse."