'Nomadic' graffiti vandal went on England rampage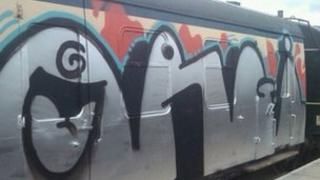 When Joseph Binney was seen on CCTV spraying his graffiti tag on railway arches in Leeds he had already caused thousands of pounds of damage across the rail network.
Sgt Pete Shaw, of British Transport Police (BTP), said Binney's crimes showed he was "nomadic and travelled the length of the country".
Binney, 22, of The Roundway, Hull, daubed his 'Orgie' and 'Aids' tags across England over a 14-month period, including on trains in Birkenhead and on the London Underground.
Binney has been sentenced to three months at Leeds Crown Court after admitting eight charges of criminal damage, between December 2009 and August 2010.
Two other offences, in November 2010 and last January, were also taken into consideration.
'Overcrowding misery'
It comes after Binney was released with a caution in June 2010 after CCTV film showed him spray-painting railway arches near the Corn Exchange in Leeds.
However Sgt Shaw, a graffiti specialist, was unperturbed by the result and carried on investigating the defendant.
He brought in a graffiti expert and by examining the designs and footage of the offender's spraying technique, they linked Binney to further crimes across the network.
Sgt Shaw said Binney changed his tag to 'Aids' after being re-arrested in August 2010 and even travelled to Vienna to scrawl the new tag.
The officer said he had caused at least £17,000 of damage as well as major disruption for passengers.
He said such vandalism led to trains being taken out of service and to shorter trains as it took at least a day to clean one carriage.
"At rush hour it creates more misery in terms of overcrowding, " he said.
Sgt Shaw said such graffiti was an attack on communities and the environment.
He said: "Graffiti in the right location, such as on legal walls, can be very impressive. Some people like to spend a lot of time on proper murals, which they want to do rather than looking over their shoulder hoping they won't be arrested.
"But graffiti on trains is not art it's just vandalism."
Taggers' deaths
The officer added: "The financial costs have to be borne by someone, and that someone is ultimately the fare-paying passenger."
However, Sgt Shaw said for graffiti vandals "the buzz" and adrenalin rush of being caught and the "notoriety" gained through their tags were the main attractions.
It is a problem which affects stations and train firms across the UK, with up to 3,000 incidents recorded in 2009-10, costing an estimated £15m.
Sgt Shaw, who works in the North East, said although there was a "graffiti culture" in the region it was quite unusual for someone to target the rail network in the way Binney did.
He said Binney had placed his life in danger. When he sprayed his tag on a railway bridge at Bentley, South Yorkshire, he was near live rail lines and trains travelling at 80mph.
"I think they [graffiti vandals] gain extra credence by putting tags in dangerous places, like I saw one in Leeds on top of a tall building," he said.
"It brings extra credit and then other graffiti vandals mimic that behaviour to try and get one up on them."
He said people had died and been injured while trying to scrawl tags near train lines.
In London, where parts of the network are plagued by graffiti tags, two men died in January 2007, when they were hit by a Tube train while spraying graffiti at the Barking rail depot.
Network Rail said every year people were killed or injured while attempting to graffiti railway property.
The rail operator said it spent more than £3.5m-a-year on removing graffiti - money which it could otherwise spend on improving the system.
"Graffiti not only looks bad, it also makes passengers and people who live nearby feel unsafe," a spokesman said.
"The courts have our full backing when sentencing those who graffiti or damage railway property and we hope it acts as a deterrent to others."