Green Party's Adrian Ramsay hopes to spread word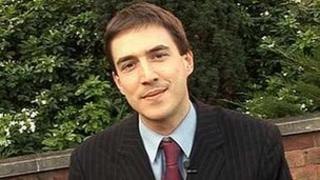 Green Party membership has doubled in recent years.
Now the challenge is to spread that success across the country, according to Adrian Ramsay, Deputy Leader of the party.
"Caroline Lucas' prominence and credibility have been raised tremendously since she became an MP and that has pushed forward the profile of the Green Party," he tells me.
"We need to get that message across to places where we don't enjoy the support we have in the east."
Winning Norwich?
The eastern region has the highest support for the Green Party in the country, particularly in Norwich where Adrian Ramsay became one of the city's youngest councillors.
He's given up that role now to concentrate on his duties at a national level.
"Rural or urban, Conservative or Labour, we need to gain support in a good range of areas to build on what we've already done," he says, en route to address a gathering in Wolverhampton.
"It means a lot of travelling to get our message across. There's a lot of work to be done but we are building on success.
"At a local level Greens have practical policies even in these difficult financial times; like the placing of solar panels on council buildings in Norwich - creating jobs as well as energy."
To the $64,000 dollar question... can the Greens win Norwich in next May's elections? He says: "Well, our support continues to rise but we're vying with Labour. It's becoming a two party fight.
"Labour needs to make gains and so do we but there are definitely more parts of the city that are vulnerable."
So that's a 'never say never'...