James Paget consultant says MP claims caused 'anxiety'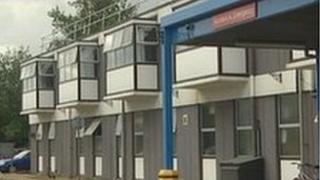 A consultant at a failing hospital serving north Suffolk and east Norfolk has accused three MPs of creating "unwarranted anxiety amongst patients".
Duncan Peacock, from the James Paget Hospital in Gorleston, wrote to Therese Coffey, Peter Aldous and Brandon Lewis.
He said leading medical staff were also concerned about workforce morale.
The MPs said the hospital had failed two inspections despite promises to improve and they were concerned it could happen a third time.
Mr Peacock said the MPs' concerns were based on claims in an anonymous letter from an alleged group of local GPs.
The GPs' representative group HealthEast CIC denied knowledge of that letter.
In his letter to the MPs, Mr Peacock said: "We feel these actions have led to an unwarranted increased anxiety amongst our patients and their relatives.
"We are in no doubt that the comments you have made have had a demoralising effect on dedicated frontline NHS staff.
"To do this on the basis of an anonymous letter is deplorable.
"As clinicians we are committed to the best interests of our patients and improving the care they receive.
"We fully acknowledge and care deeply about the concerns raised by the Care Quality Commission (CQC) inspections.
"These have focused on dignity and nutrition. As doctors, we have witnessed huge efforts to address these issues."
Not assured by meeting
Therese Coffey, Conservative MP for Suffolk Coastal, said she stood by her original remarks.
"After the first inspection, I was assured that this was a blip and doubt was cast upon the quality of the inspection by the chairman of the hospital trust.
"I did not accept that but was somewhat reassured by the expectation of changes that were under way.
"However, the second inspection continued to find failings in dealings with older patients."
She did not meet the hospital management or chairman after that inspection but Peter Aldous, MP for Waveney and fellow Conservative Brandon Lewis, MP for Great Yarmouth, did.
Dr Coffey said: "I was certainly not reassured by the report of that meeting. Together we have agreed a course of action to press the hospital on its improvements for our constituents.
"Since then, a third inspection has been held. I am highly concerned that a third failure will be reported."
Mr Lewis contested the claims in the consultant's letter and said: "I have at every opportunity clearly raised the expertise and superb work done by the frontline staff.
"I am very aware of how hard you all work and how well you serve your patients and the community at large."
Awaiting third report
His comments were not based on the unsigned letter but were formed by the two Care Quality Commission inspections, he said.
"These are backed up with casework and contact my office has had from residents who have suffered similar experiences.
"Promises made to us after the first inspection have not led to a full resolution of the problem.
"We all await the result of the third inspection and hope that this will show everything is now sorted, as that is the best result for patients of the hospital as well as staff."