Edenbridge and Lewes gear up for bonfire parades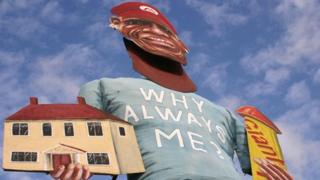 A 40ft (12m) tall effigy of footballer Mario Balotelli will be set alight at Edenbridge Bonfire Society's celebrations this year.
The Manchester City striker was chosen to be the celebrity guy after he was involved in a series of controversial events since joining the club in 2010.
Most recently on 22 October, the premiership player hit the headlines after a firework was let off in his home setting the bathroom alight. He has since urged everyone to follow the firework code. It was this that brought him to the attention of Edenbridge Bonfire Society.
Artist Frank Shepherd has created the guy out of hardboard and dust sheets on a metal frame showing the striker holding a firework and a house.
Member Iain Baugh said fireworks would be mounted on the frame with a bomb behind the head and oil hosed into paper-filled cushions on the back, before the guy is set alight.
The identity of the guy remained a closely-guarded secret until the unveiling on Wednesday - but organisers promised it would be someone who was notorious for putting their foot in it.
Wayne Rooney
There are dozens of bonfire societies in the South East and many burn effigies.
Tens of thousands of people flock to the events based on centuries of tradition, with 60,000 expected in Lewes on Saturday. Fund-raising by the societies takes place all year.
Previous celebrity guys have included Sarah Palin in Battle and the planned Jerwood art gallery in Hastings. Edenbridge targets have included Wayne Rooney, Cherie Blair, John Prescott and Saddam Hussein.
Charles Laver, from Edenbridge society in Kent, said the burning of a celebrity guy helped the society raise money for good causes and was nothing to do with malice.
He said: "We do our celebrity guys for publicity and get people to come along - we don't pick on people."
Tradition of dissent
In Lewes, the town's seven bonfire societies, which have a 4,000-strong membership, have held on to a tradition of dissent.
Keith Austin, 73, secretary of Lewes Bonfire Council, who celebrates his 50th year as a "bonfire boy" on Saturday, said: "We call them enemies of bonfire. If someone upsets us, we make an effigy, parade it through the street and blow it up. It's as simple as that."
"It's all about tradition," he said.
"Bonfire started in Lewes, possibly in 1606, which is the first anniversary of the Gunpowder Plot.
"There were riots and all sorts of things. The authorities tried to stop it. It was accepted in about 1850.
"People that took part were generally men. It was too rough for women and children.
"They used to let off fireworks called the Lewes Rousers which were homemade and lethal."
"Over the years, the authorities tried to change things and to turn it into a carnival. It's not a carnival. It's something special," he added.
Mr Austin said each society followed its own traditions.
In Edenbridge, the identity of the guy is chosen at the last moment, depending on which celebrities are in the news.
In Lewes, guys are decided on as early as June, and making torches, tableaux and effigies starts in August.
"Each society has a tableau which is sometimes political. They like to keep it a secret. People can see it as a big surprise," Mr Austin said.
Edenbridge will hold its traditional parade led by a fake bishop on Saturday, after which the guy will be set alight. Mock clergy have officiated at the societies since they were formed.
Lewes is also holding its celebrations this weekend. Advice to visitors has been published on the Lewes Bonfire Council website.