Christmas pudding found in Poole after 112 years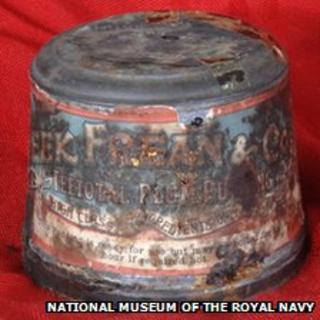 A Christmas pudding sent to Royal Navy personnel in 1899 has been discovered at the back of a cupboard in Dorset.
A woman from Poole said the tinned "Peek, Frean & Co's Teetotal Plum Pudding" had been in her late husband's family for years.
She donated it to Portsmouth Historic Dockyard where it is being conserved.
It is believed to be one of about 1,000 commissioned by Agnes "Aggie" Weston who was famous for her kindness to sailors during the Boer War.
Stored in a decorative tin, the 112-year-old-plum pudding also has a message which says: "For the Naval Brigade, In the Front, With Miss Weston's Best Christmas & New Year, 1900, Wishes."
'Nice little present'
In 1899 she set up an appeal to send each of up to 1,000 naval personnel at the front a Christmas pudding. The Royal Navy was involved in land-based operations during the Boer War in southern Africa.
It is referred to in her autobiography: "As Christmas drew near it occurred to one of us that a Christmas pudding for each man of the Naval Brigade would be a nice little present.
"Messrs Peek, Frean & Co carried out the order, and the puddings went off, each in its tin, 'With Miss Weston's good wishes,' in time to reach the front. They were passed on and were not hung up any-where."
'Quite remarkable'
She went on to found the Royal Naval Sailors' Rests at Devonport and Portsmouth and was buried with full naval honours.
The label also carries the following instructions: "This pudding is ready for use but may be boiled for an hour if required hot."
Museum collections manager Victoria Ingles said: "It is quite remarkable that the pudding has survived for over 100 years.
"It is the only example we know of issued to the Naval Brigade still in existence and quite possibly the oldest surviving Christmas pudding, too," she said.
She added that due to the deterioration of the tin it was "highly unlikely that the contents would still be edible".