West Midlands to get £100m from regional growth fund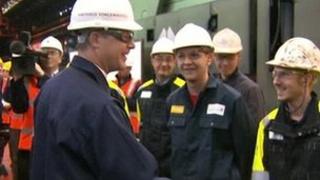 Companies in the West Midlands region are to receive a total of £100m in government support as part of the Regional Growth Fund.
The cash relates to 22 successful bids, figures from the Department for Business, Innovation and Skills showed.
Deputy Prime Minister Nick Clegg announced which firms in England would benefit from the £950m final instalment of the fund.
Labour said Mr Clegg's announcement did not represent new investment.
The figures revealed a total of £100m for the region for 22 successful bids, creating 3,900 jobs directly and 29,800 through the supply chain.
'Fantastic news'
One of the successful schemes was the Advanced Engineering (AE) Supply Chain Investment Fund, which will provide financial support to small businesses across Birmingham, Solihull, the Black Country, Coventry, Warwickshire and Liverpool.
Another was Ceram, in Stoke-on-Trent, which will get money to develop new kilns and firing methods.
It said it was "fantastic news" not just for itself "but for the ceramics industry and the local area".
Chief Executive Officer Tony Kinsella said the funding would allow it to fully test new technology at an industrial scale and, if successful, would mean that "ceramics manufacturers can cut their energy costs by a possible 25%".
Other successful bids included LNX Distribution, Zytek Automotive, Alamo Manufacturing Services (UK), Herefordshire Council and Moorland & City Railways.