Regional Growth Fund 'will bring £40m to Derby'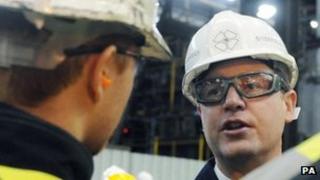 Funding worth £40m is coming to Derby, the government has announced.
The money has come from £950m of investment nationwide as part of the Regional Growth Fund.
It will be used to fund various projects in Derby as well as offering redundancy support to people affected by government cuts.
The fund was set up to support projects that created jobs in areas dependent on the public sector and were supported by private sector investment.
The £40m will be managed by Derby City Council on behalf of the Derby Renaissance Board, which comprises of business leaders and public sector leaders from across the city.
'Too little, too late'
In recent months Derby has suffered job losses at train maker Bombardier, financial group Citi, chemical company Celanese, Royal Mail and Derby City Council.
Peter Richardson, from the Derby Renaissance Board, said: "This funding is essential if we are to provide the necessary infrastructure and business support to create new and replacement jobs."
The funding will go towards establishing a global technology cluster adjacent to the Rolls-Royce Campus and support a growth programme for existing and new businesses.
Labour leader Ed Miliband said the funding announcement was "too little, too late".
He added: "Any money that helps struggling businesses is important but at the same time as the government is coming along and providing money in the Regional Growth Fund, it is cutting back on the investment allowances - the money that helps companies to invest in plant and machinery.
"That is the wrong decision. It is the wrong choice and it won't build the kind of new economy we need to see."
Deputy Prime Minister Nick Clegg said organisations awarded the funding were the "lifeblood of the future of the British economy".