Fund 'will bring £25m and 2,500 jobs' to Leicestershire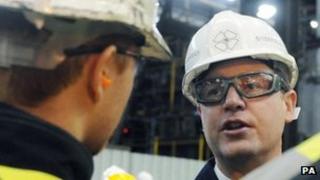 Government funding worth £25m is coming to Leicestershire, creating about 2,500 jobs.
The money has come from £950m of investment nationwide as part of the Regional Growth Fund.
Organisations set to benefit include GE Druck Ltd which will build a £4.5m research and development centre at Loughborough University.
The fund is for projects that created jobs in areas dependent on the public sector supported by private investment.
"Too little, too late"
About £20m will help build the infrastructure to support a new Enterprise Zone at engineering firm Mira (Motor Industry Research Association), in Hinckley.
The University of Leicester has received more than £1m.
Andrew Bacon, of the Leicester and Leicestershire Enterprise Partnership (LLEP), said the schemes "will create jobs and show how Leicester and Leicestershire are leading the way in innovation".
However, Labour leader Ed Miliband said the funding announcement was "too little, too late".
He added: "Any money that helps struggling businesses is important but at the same time as the government is coming along and providing money in the Regional Growth Fund, it is cutting back on the investment allowances - the money that helps companies to invest in plant and machinery.
"That is the wrong decision. It is the wrong choice and it won't build the kind of new economy we need to see."
Deputy Prime Minister Nick Clegg said organisations awarded the funding were the "lifeblood of the future of the British economy".