HS2 would link with Heathrow in proposed alternative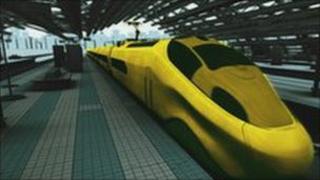 An alternative route to the proposed £32bn national high-speed rail link has been outlined by the shadow transport secretary Maria Eagle.
The route would still run from London Euston to Birmingham but would follow the M40 and Chiltern line in parts.
Ms Eagle, Labour MP for Garston and Halewood, said it would be a "huge mistake" if Heathrow Airport was not connected directly by HS2.
A spokesman for Stop HS2 campaign said the alternative link was "implausible".
Ms Eagle, who was addressing the Airport Operators Association, said she had taken into account "some of the objections and concerns some people had" with the new proposal, which would still see the rail link running though rural parts of Buckinghamshire, Oxfordshire, Northamptonshire, Warwickshire and Staffordshire.
The route would run closer to the towns of Princes Risborough, Bicester and Banbury and could link up with the original line east of Leamington Spa or pass south of Warwick before heading towards Birmingham Airport and its city centre.
It would also tunnel under parts of London as well as the Chilterns.
'Outstanding natural beauty'
Ms Eagle said: "I don't think we got everything right in our original proposal when we were in government and having had a close look at it over the last year as part of our policy review we think that connecting via Heathrow and using existing transport corridors means that we're going to get to Birmingham in a more sensible way.
"It might be two or three minutes slower on a non-stopping service but it avoids going through areas of outstanding natural beauty and joins up better with our other transport networks.
"It seems mad not to take your high-speed train though your hub airport at the earliest opportunity - that's the lesson of high speed in Europe."
Transport minister Theresa Villiers, Conservative MP for Chipping Barnet, accused Labour of being "opportunistic" by making an announcement that she believed would do "nothing to contribute to the detailed, informed and extensive process that the government is undertaking on HS2".
"Labour have had nine months to say something constructive on HS2 but instead have waited till the consultation has ended to oppose the government's preferred route - which they originally came up with," she added.
"Labour are playing politics with HS2 and the people who strongly support the project around the country will not thank them for this irresponsible attitude."
Questions raised
Joe Rukin, from Stop HS2, said he felt the alternative had come too late, and did not address the concerns of his fellow campaigners.
"Moving the route is all well and good but it doesn't change the business case or the environmental case," he said.
"Nor does it change the fact we can't afford it.
"It is still a project that will only benefit the rich in society.
"We cannot understand this obsession with high-speed rail and connecting airports."
Dan Large, from the Campaign for High Speed Rail, was pleased that Labour was still offering support for the scheme but felt the new route raised "some fundamental questions".
He said: "The new route is not as straight as the old route, which will have an impact on the line speed. How much will this reduce the speed of the line?
"What impact will this have for return on investment in expensive rolling stock? How many services an hour will be lost as a result of the curvature of the new route?
Mr Large also questioned why the route had to pass through Heathrow when the original plan already contained a spur connecting the airport.