Two power plants to create 1,000 jobs in Yorkshire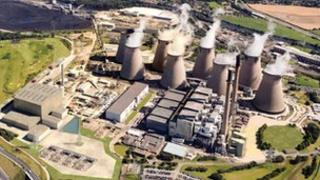 Two new power stations are to be built in Yorkshire creating more than 1,000 jobs, the government has announced.
The power stations in Ferrybridge near Wakefield and Thorpe Marsh near Doncaster will generate enough energy to power almost two million homes, according to the Department of Energy.
The stations will see a combined investment of £1.2bn.
The prime minister said the projects were part of a plan to "unblock the system and get projects under way".
Acorn Power Developments will invest £984m in the gas power plant in north Doncaster, creating up to 800 jobs.
Andy Tickle, head of planning and campaigns for the South Yorkshire branch of Campaign to Protect Rural England, said the decision to build the plant was "the wrong decision at the wrong time."
'Outdated fossil fuel'
"Although we realise a new power station will mean jobs and electricity, we've got real concerns.
"We argue that if the Government is to meet its targets to supply more renewable energy and address climate change, then only renewable and low carbon power sources should be permitted.
"The proposals at Thorpe Marsh are neither and they go against national policies on climate change. We should be investing in green technology and jobs, not in outdated fossil fuel power stations."
However, Ian Mason from Doncaster Chamber of Commerce said the news of local investment was "very good" for the area.
"This particular plant alone is going to take almost £1bn worth of private sector investment, never mind what is being contributed from the government."
Pollution concerns
The power station in Ferrybridge in West Yorkshire will use a range of sustainable sources including biomass, waste-derived fuels and waste wood.
It will see an investment of £250m by SSE Generation, which expects to create about 350 jobs, and will be built on the company's existing coal fired power station site.
The plant is due to be completed in early 2015.
Last year a campaign group called Aire (against Air, Industrial, River and Environmental pollution) opposed plans to build the site, raising concerns over air pollution.
One of its members, Stephanie Gilbert said in July 2010 that the gas would "come up the chimney and mix with chemicals from the power station and travel up to 23 miles".
Director of thermal development Rhys Stanwix said the plant was "an important contribution to ensuring secure energy supplies".
New jobs
"It will also create approximately 100 full-time jobs throughout its operation and its construction will create 300 jobs on site over the next three years," he added
"These jobs, along with the additional considerable opportunities for local services and the local community enhancement work we are doing as part of the development, will make a substantial contribution to the local area."
Charles Hendry, Minister of State for Energy, said the investment was part of a drive to increase growth across the country.
"These new plants in Yorkshire are a fantastic example of new power stations bringing new jobs.
"These decisions are a further example of our determination to clear the backlog of planning applications, to stimulate growth and enhance our energy security."
Writing in the Financial Times, Prime Minister David Cameron said: "This autumn the government is on an all-out mission to unblock the system and get projects under way."