Sir Jimmy Savile statue considered for Scarborough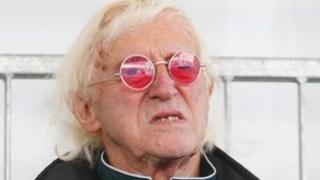 The seaside resort of Scarborough is being urged to erect a statue in memory of Sir Jimmy Savile.
Local businessman James Corrigan, a lifelong friend of the veteran broadcaster, said a statue would be a "fitting" memorial.
Sir Jimmy, who was born in Leeds, had a home in the resort for more than 40 years and was awarded the Freedom of the Borough in 2005.
The broadcaster died at his home in Leeds on Saturday at the age of 84.
Sir Jimmy's affection for Scarborough dated back to childhood holidays in the resort.
'Adopted home'
He later had a home on the Esplanade.
Mr Corrigan said he felt the town should have a permanent reminder of the broadcaster and his affection for the town.
He said: "The most fitting tribute would be a statue paying tribute to him and what he's done for this area."
The Conservative leader of Scarborough Borough Council, Tom Fox, agreed and said the council would consider the proposal.
He said: "You couldn't buy the publicity he brought to the town. It was his adopted home and he became one of the town's adopted sons."
Mr Corrigan said: "He's been around all my life. He had no airs or graces. He was off duty when he was with us and very relaxed.
"My earliest memories of him were at Christmas when we would sit and watch the Christmas edition of Jim'll Fix It with Jim'll Fix It himself."
Jimmy's bench
Mr Corrigan recalled that when a local friend died, Sir Jimmy bought a plaque and nailed it to a bench on Marine Parade in his memory.
A few days later Mr Corrigan said the broadcaster asked him to take a look at the bench.
He said: "He took us to the bench and on the next bench along he'd added another plaque which said 'Sir Jimmy Savile - but not just yet'. When I asked him why he said he wanted to keep John company."
The plaque has been stolen and replaced a number of times.
Since Sir Jimmy's death, a number of tributes have been left on the bench including a couple of Jim'll Fix It badges.