Solar industry put in the shade by government U-turn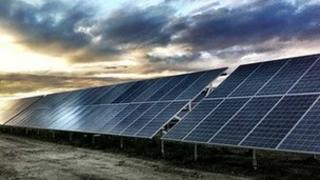 The government is to announce later that it will cut the subsidy for solar, known as the Feed in Tariff (FiT), to homeowners to put panels on their roofs, claiming it is now unsustainable.
In February this year, the government revealed it was cutting a similar subsidy for commercial ventures, where companies were going to profit from building PV (Photo Voltaic) solar farms.
It announced a deadline of 1 August in which companies would have to have an initial electricity connection or lose their subsidy.
BBC Inside Out followed one company as it raced to beat the deadline and asks if this is the best way to encourage renewable energy.
In February the government pulled the plug on commercial ventures by declaring it was slashing the FiT subsidy from nearly 30p to 8.5p per KW hour.
The directors of PV Farms Ltd based in Norfolk had planning consent and British investment for their sites.
After the government announcement they had just six weeks to get an initial electricity connection in order to meet the deadline. It has been a race against time.
'Kill it'
Before the February decision there were no PV solar farms in this country but many companies were planning them. This, the government says, would have sucked up the money intended for householders having solar on their roofs.
Chris Meacock and fellow director Richard Atkin worked round the clock and managed to get an initial connection. They say it is a missed opportunity for the solar industry.
"You had a viable solar industry with lots of enthusiastic people like us who want to take advantage and they just decided to kill it," said Mr Meacock.
Their site at Snetterton in Norfolk is small with 2000 panels. Their site at Carlton, also in Norfolk, is much bigger - spanning more than 25 acres it has almost 18,000 panels and the capacity to power 5,000 homes. They are both poised to become operational.
But instead of British companies investing in their business it is now financed by foreign investors and part-owned by them too.
Soaking up funding
Back in September, BBC Inside Out asked the Climate Change Minister Greg Barker for an interview but he declined. He did give a statement.
"I have acted to stop large scale solar farms potentially soaking up all the funding. This would have increased costs on bills and prevented householders from being able to access exciting small scale technologies in the future."
Today though, the Department of Energy and Climate Change is to back-track again. It told the BBC it was likely another review will be announced as early as this week to cut the funding for domestic installations.
"The FIT Scheme has to live within the budget. You don't have to be a Nobel prize-winning economist to realise that solar is burning through the budget at an unsustainable rate," Mr Barker said.
Of the hundreds of applications for solar farms across the country only a few have been built - as the fledgling commercial industry was stalled by cuts in subsidy. It now seems likely that the domestic industry will also be affected.
The change in the domestic tariff comes far sooner and is far more drastic than expected.
The full report can be seen on Inside Out East and iplayer on Monday at 19:30 GMT on BBC One.