BAE job cuts: MP urges government to boost support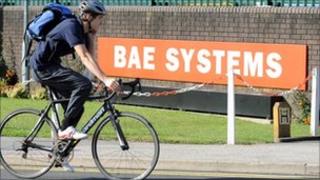 An MP has urged the government to boost support for defence firm BAE Systems and British industry after the company announced plans to shed 3,000 jobs.
In the House of Commons, Mark Hendrick, Labour MP for Preston, said the cuts at two sites in Lancashire and one in East Yorkshire, were a "devastating blow".
He reiterated claims that BAE jobs support another four in the community.
Enterprise Minister Mark Prisk said the government would do all it could to help those affected.
Jobs are due to be cut at sites across the country. About 1,400 jobs are due to go at Samlesbury and Warton, in Lancashire, and a further 900 at Brough, East Yorkshire.
Most of the planned cuts will be in BAE's military aircraft division, which is being affected by a slowdown in orders for the Eurofighter Typhoon fighter aircraft.
BAE has previously said it had to "ensure its long-term future".
Mr Hendrick, speaking in an adjournment debate on Thursday evening, said: "Britain will not recover from the global economic crisis without a strong manufacturing base.
'Commercial issue'
"Let's not forget BAE Systems is an incredibly profitable, private, global, defence company - over £1bn of profits this year.
"It's not just about what the government is doing - it's also about whether BAE itself is doing everything that is necessary."
Mr Prisk said the Business Department appreciated the huge impact the job losses would have on the regional and national economy.
He added: "While a decision of this nature is a commercial issue for the company, it is absolutely right the government should do all it can to help those affected.
"The government is determined to take the necessary action both to support the individuals and to ensure UK defence and manufacturing businesses prosper over the long term."