Admiral Lord Nelson letter auctioned in Derby for £20,200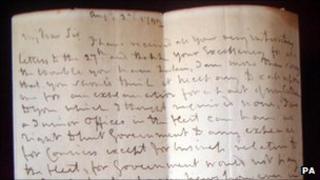 A letter written in 1799 by Admiral Lord Nelson has been sold at auction for £20,200.
The letter, dated 2 August 1799, was found at a house in Lichfield, Staffordshire, and auctioned at the Mackworth Hotel in Derby.
Hansons Auctioneers had estimated it to be worth between £8,000 and £12,000.
Charles Hanson from the auctioneers described the letter's new owner, who wanted to remain anonymous, as a "big Nelson enthusiast" from London.
Mr Hanson said: "I'm delighted to celebrate Nelson in this way - it's gone beyond what we expected it to make."
In the letter, the British naval commander complains about being unable to secure government funds to courier news of a successful blockade in Naples.
'Original ink script'
It was addressed to the Honourable William Frederick Wyndham, who was the British minister for Florence at the time.
Nelson, who had lost his right arm at the Battle of Santa Cruz de Tenerife two years earlier, wrote: "The Government would not pay £10 for me for any news, however interesting.
"I am anxious to hear of any movements of the armies. They are most interesting but I could not pay sixpence for the news of the greatest victory from the public purse.
"I am forced to confess that our Government keep us seamen from putting our hand in the public chest."
Mr Hanson said the previous owner, Mark Berry, was a distant relative of Mr Wyndham.
He said: "The letter with Nelson's original ink script is wonderful to handle since it is in the hand of my famous naval hero.
"In these hard times we must take heart in a man who was weary and frustrated but rose again in a magnificent way."
Nelson is famous for his naval victories over the French during the Napoleonic Wars.