Keith Richards crossbow siege marksman recalls death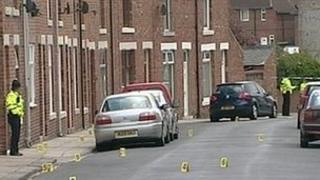 A police officer shot dead a man allegedly preparing to fire a crossbow because he feared for his life, an inquest has heard.
Giving evidence anonymously at the hearing into the death of Keith Richards, the officer recalled the 47-year-old's last moments.
Mr Richards died during a stand-off with officers outside his home in Shildon, County Durham, on 12 May 2009.
The officer said he believed Mr Richards was "trying to kill me".
Speaking from behind a screen, he said: "I saw Mr Richards cock the crossbow and put a bolt into it.
"He brought the crossbow up into the aim position. I discharged my weapon towards Mr Richards because I believed, at that time, he was trying to kill me."
But the officer's account was challenged by Colin Hutchinson, representing Mr Richards' family, who said: "Your account of Mr Richards taking aim at the time you shot and killed him, is simply not true."
The policeman replied: "That is simply not true."
Neighbour Terry Allison told the hearing the incident was sparked after Mr Richards was arrested for drinking and driving and called police claiming he had "nothing to live for".
Mr Richards was hit by two bullets.
The hearing, which is expected to last until the end of the month, continues.