Tale of Three Cities: Stadiums can mean more than sport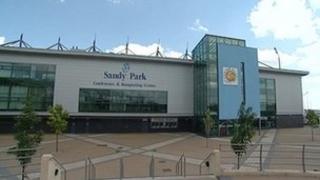 These days sports clubs do not just need fans to come through the turnstiles to earn money. The extra utilisation of stadiums is key to healthier finances.
Exeter Chiefs Rugby Club's Sandy Park ground is a role model as to how a sporting venue can be used to its maximum potential, incorporating banqueting and conference facilities.
They could not possibly have achieved their dream of reaching rugby's rich pastures of the Premiership had they stayed at their old County Ground in the middle of the city.
It was looking tired and a little dilapidated, so they sold it for housing development and moved into a new site, just off the M5, costing £18m. And their foresight has paid off.
Chief Executive Tony Rowe said the new ground had helped the club's turnover increase from £4m to £8m in a year.
He said: "A lot of our overheads and day-to-day running are covered by the conference facilities, so there's not so much pressure on the rugby side, so to speak."
'Colossal income'
Even Exeter City Football Club's St James Park will be fully modernised in two years' time. The plans include rebuilding the old grandstand and the away supporters' end at a cost of £30m.
They hope to recoup that, in the main, by building student accommodation next to the ground and renting it out.
So what about Truro? The Cornish Pirates rugby team are eager to follow the path taken by Exeter Chiefs, but there is no suitable stadium in the county as yet.
A proposed £24m, 10,000-seat Stadium for Cornwall on the edge of the city could be their new abode.
A planning application has been made to Cornwall Council, but the council said no public money would go towards its construction because of spending cuts.
In September, the council said it was in discussion with private investors.
Rod Lyon, general secretary of the Stadium For Cornwall Working Group, said the whole area would get "a colossal amount of extra income" if it was built.
He said: "Holiday accommodation, shopping, food and drink outlets, they'll all benefit.
"It's been estimated it would generate at least £3m in the first year."
And where do Truro City Football Club fit into the plans?
Their current Treyew Road ground cannot meet Conference Premier criteria, should they gain a sixth promotion in their meteoric rise up football leagues. However, the team has been a stakeholder in studies into the stadium proposals.
Plymouth stadium buy-back
In Plymouth, the decline of Plymouth Argyle Football Club has been alarming since going into administration last December and falling to the bottom of League Two.
They also lost their one asset after selling their Home Park stadium back to Plymouth City Council last week, after purchasing it from the authority for £2.7m in 2006.
Conservative Council leader Vivien Pengelly said the council taking over the site would give the club "a new future and will preserve the economic benefit that it brings to the city" of up to "several million pounds a year".
It also means the club now have £1.6m in the bank from the sale.
Prospective new owner James Brent said having such money was paramount in resuscitating the stricken business.
He said: "The way that I view it is that we can and should target surpluses rather than profits and then reinvest it into the club.
"There's no ambition on my part to take money out of the club or make money out of the club."