Tale of Three Cities: South West medical work acclaimed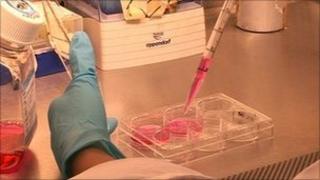 Ground-breaking studies into diabetes, neurology and the environment are being carried out by medical clinicians and scientific researchers in Exeter, Plymouth and Truro.
As a result of its work, the reputation of the Peninsula College of Medicine and Dentistry for world-class research is continuing to grow.
The college, which opened in 2000, is run in partnership with the University of Exeter, Plymouth University and the NHS in Devon and Cornwall.
It has research teams working across its universities, as well as in the South West's main hospitals - Derriford, Royal Devon and Exeter and the Royal Cornwall.
In Exeter, a new multi-million pound centre is to be built with facilities for on-site research into the treatment of conditions such as Type 2 diabetes, which is linked to obesity and already affects one in 20 people in the UK.
'Great need'
Reseach is being carried out in Exeter to understand why one overweight person develops the condition, while another does not.
Professor Tim Frayling, a geneticist from the Peninsula Medical School who is leading the work, said progress was finally being made into the causes of Type 2 diabetes, which he said was important because it is on the increase.
In Plymouth, research into neurological disease has made a big international impact and samples from brain tumour patients are being analysed to help develop new drug treatments.
Professor Oliver Hanemann, head of the Peninsula's neurology department and a consultant at Derriford Hospital, is working on therapies for people who suffer from multiple brain tumours.
Considered to be a world leader in his field, he said there was a "great need" for the research being carried out by the Peninsula.
"As a physician, these patients are very difficult to treat - and you feel almost helpless - because you treat one tumour then the patient comes again a month later with another tumour," he said.
"There's a great medical need for a new systemic drug treatment and that's what we are doing with our lab work and early phase clinical trials.
Meanwhile, over the border in Cornwall, studies are being done at the Peninsula's European Centre for the Environment and Human Health into the threat to health from the natural world - such as climate change, marine pollution, radon gas and the sun.
Scientists at the centre in Truro are also researching the benefits of spending time in the natural environment.
Professor Michael Depledge said: "If we can get people fitter and their mental health better in this way, we hope that will reduce the number of visits to GPs.
In all three cities, the research teams believe their work will benefit the health of the South West and beyond.
Professor Angela Shore, deputy director of the Peninsula's clinical research, said: "Our research is changing patient healthcare across the world.
"I think the future for Peninsula is one where we will more up in our reputation nationally and internationally."