2012 Cultural Olympiad boat trip sites announced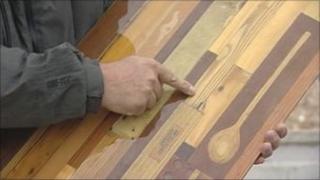 The five locations in Hampshire, Sussex, Kent and Buckinghamshire a 30ft yacht will visit as part of the 2012 Cultural Olympiad have been announced.
The boat is being built at Thornham Marina in Emsworth, Hampshire, from more than 1,200 wooden objects donated by people across the South East.
It will sail to Portsmouth, Brighton, Hastings and Margate, and then visit Milton Keynes, between May and July.
Arts Council England said it hoped to announce more locations soon.
A festival will mark the boat's arrival at each town and city during the voyage in 2012.
The crew, which includes five people from Sussex and one from the Isle of Wight, will be accompanied by a musician who will compose five pieces of music to form part of the ship's log.
Arts Council England said it was hoped the composer would perform a section of the work at each location.
Some of the objects being incorporated into the boat's structure include family heirlooms, tributes to people who have died, a piece of Jimi Hendrix's guitar, relics of World War II and a piece of Brighton's West Pier.
Sally Abbott, of Arts Council England, said: "We are delighted that so many people have got involved in the boat project so far and it's great news that the boat will be able to stop in so many places.
"I look forward to seeing the boat set sail for the first time next summer, just in time for the Olympics and Paralympics, and I hope that many people along the South Coast will also be able to observe the journey and will get involved in the exciting activities and events planned in the places where the boat will stop over."
A 16-year-old boy from Surrey will assist the boat captain with maintenance and preparation both on and off shore during the trip.