Merged Suffolk and Cambs fire control 'will not risk lives'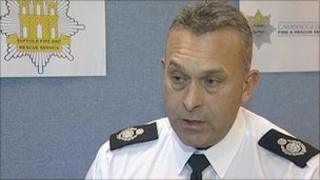 Lack of local knowledge in a merged emergency control centre will not put lives at risk, fire officers have said.
Concerns were raised when Suffolk and Cambridgeshire fire services became the first in the UK to merge their 999 response centres into one unit.
Calls from Suffolk are now answered by staff based in Cambridgeshire.
Officers said that as well as employing six staff from Suffolk, the "proven technology" would map addresses and accurately identify callers' locations.
Mark Sanderson, Suffolk's assistant chief fire officer, said the service had "considered and thought for a long time" whether merging the two counties' emergency response centres could put people's lives at risk, if staff were unfamiliar with a particular area.
"There are a number of things we're doing to mitigate the loss of local knowledge," he said.
This includes members of the six staff from the former control centre in Suffolk working across each shift.
'Exactly as planned'
Neil Newberry, the assistant chief fire officer for Cambridgeshire, said: "I understand people's concerns.
"A lot of that stems from a lack of knowledge about how a control centre actually functions.
"The technology is there to mitigate against those issues."
Mr Newberry said the transition to the merged system on Tuesday had gone "exactly as planned".
"In some ways it was quite a dull day which is exactly what we hoped for," he said.
The 999 centre responded to 50 calls during its first 24 hours, including freeing a man who had trapped his hand in a drinking straw dispenser at a fast food restaurant in Ipswich.
Mr Newberry said: "I don't think there are any issues for the people of either Suffolk or Cambridgeshire.
"I can assure them that we're confident the system can more than overcome any issues about local knowledge."