TV licensing staff in Darwen and Bristol staging new strike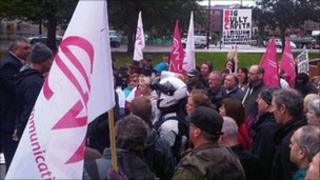 TV Licensing workers are to stage a second strike in a dispute over pay.
The Communication Workers Union (CWU) said its members, employed by Capita at sites in Darwen, Lancashire, and Bristol, will walk out on 31 October.
It said there had been no contact from the company or offer of fresh talks since a strike on 17 October.
Workers have been offered a below inflation pay rise of 2.6%, following a two-year pay freeze, which Capita said was "good and fair".
The CWU said Capita staff working on the BBC TV licensing contract have not had a pay rise for almost two years.
CWU assistant secretary Andy Furey said: "It's the sheer unfairness of the company's attitude that has brought us to this situation. Capita is making huge profits, but is still expecting our members to accept a reduced standard of living.
"The fact they haven't been in touch at all shows just how little they seem to care about their employees.
"With inflation running at 5.6%, pay offers worth around 2.6% mean a pay cut in real terms for staff who are already struggling to pay increased food and energy bills. We want a fair, affordable pay rise which rewards staff."