BBC East Midlands Sports Awards: Nominations announced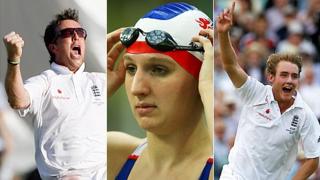 Two of Nottinghamshire's Ashes winning cricketers have been shortlisted for the BBC East Midlands Sports Personality of 2011 award.
Graeme Swann and Stuart Broad have been named alongside Mansfield swimmer Rebecca Adlington on the shortlist for the trophy.
Nominations for eight awards have been revealed - each recognising sporting achievement in the region.
The winners will be announced at an event at Loughborough University on 17 November.
The BBC asked for members of the public to suggest sportsmen and women to be considered for awards, including Team of the Year and Coach of the Year, in September.
A judging panel made up of former sportsmen and regional sports journalists shortlisted three people in each category.
Below are details of the award categories and full list of nominations.
Award categories
Sports Personality of the Year
Rebecca Adlington - Swimming
Stuart Broad - Cricket
Graeme Swann - Cricket
Disabled Sports Personality of the Year
Dan Greaves - Athletics
Sam Hynd - Swimming
Richard Whitehead - Athletics
Coach of the Year
Dave Brailsford - Cycling
Bill Furniss - Swimming
Graham Griffiths - Hockey
Team of the Year
Beeston Men's Hockey Club
Leicestershire Foxes (Cricket)
Nottingham Panthers (Ice hockey)
Junior Sportsperson of the Year
Lucy Garner - Cycling
Molly Renshaw - Swimming
Kyle Ryde - Motor sport
Junior Disabled Sportsperson of the Year
Oliver Hynd - Swimming
Jacob Parker - Swimming
Maddie Thompson - Wheelchair basketball
Football Achievement of the Year
Alfreton Town Football Club
Martin Allen - Notts County
Mark O'Brien - Derby County
Brian Clough Award
Mark O'Brian - Derby County FC
Alex Hales - Notts County Cricket Club
Manu Tuilagi - Leicester Tigers