Thousands back Rhythmix charity in X Factor row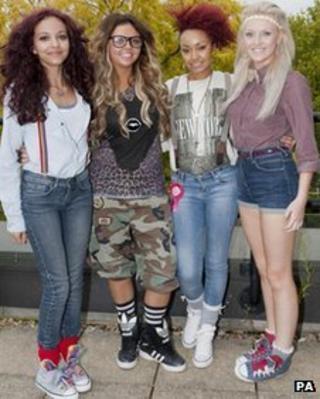 Tens of thousands of music fans have backed a campaign to support a Brighton music charity locked in a battle with the TV show X Factor over its name.
The charity Rhythmix, which has been operating in Kent, Surrey and Sussex for 10 years, is angry the X Factor used the same name for a girl band.
Now 61,000 people have joined a Facebook group aiming to stop an X Factor act getting the Christmas No 1.
X Factor has said it does not believe there is a conflict over the name.
The Facebook group, which says it supports the charity, is urging fans to buy Nirvana's 1991 track Smells Like Teen Spirit in time to make it the Christmas No 1.
A similar campaign in 2009 helped Rage Against the Machine stop X Factor winner Joe McElderry getting to the top spot.
"This has been purely a campaign by the public," said the charity's spokeswoman Lucy Stone.
"The public are getting behind us and saying, 'we want to back this charity'.
"They are saying, 'we don't believe what the X Factor is doing is a good way to represent young people'."
Live shows
The Rhythmix charity, which receives National Lottery funding, has 50 musicians who have worked with 40,000 young people through youth support services.
It has formally objected to the X Factor's application to register Rhythmix as a trademark in Europe.
The girl band was put together by X Factor before the "judges' houses" stage of the competition and is currently taking part in the live shows.
The charity said it wished the girl band members the very best of luck and hoped they would do well under a new name.
The X Factor has said it checked all band names for trademarks once they were selected for the live shows and it was aware of the charity.
"The charity in question have trademarked the name Rhythmix for educational purposes only, which is not in conflict with the band or the show," a spokesperson said.