Kent MP Adam Holloway quits as aide over Europe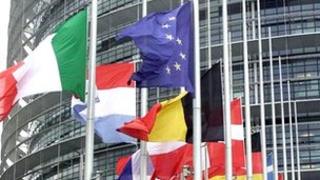 In my last blog I wrote about why Europe has always been such a divisive issue for the Conservatives, and last night it proved to be the case again.
I was aware in the run up to the vote on whether to have a referendum on European membership that a few of the South East's MPs planned to vote for the backbench MP David Nuttall's motion and against the government.
The MP for Rochester and Strood, Mark Reckless, had been vocal in his support for the motion.
And perhaps it should be no surprise that he chose to rebel - he has form as being one of the most rebellious of the 2010 intake of MPs.
Party rebellion?
He was joined by the Chatham and Aylesford MP, Tracey Crouch, and by the Sheppey and Sittingbourne MP, Gordon Henderson.
I had been told by Mike Weatherley, the MP for Hove and Portslade, that he was also going to back the motion and defy the government.
In the event he voted in both lobbies - i.e. for and against. So he chose abstention, rather than outright rebellion.
But the real surprise came from the Gravesham MP Adam Holloway.
He had most to lose really as he was a parliamentary private secretary, effectively an aide, to the Europe Minister David Lidington.
Mr Holloway gave a passionate speech in the Commons in the debate which preceded the vote, in which he announced his intention to resign.
He told his fellow MPs that he supported David Cameron and had "never voted against the party line" but said he felt the "honest course of action" was to stand down.
'Independent country'
Mr Holloway said: "I'm not now prepared to go back on my words to my constituents and I'm really staggered that loyal people like me have actually been put in this position.
"If Britain's future as an independent country is not a proper matter for a referendum, then I have absolutely no idea what is."
He was one of only two ministerial aides - the other being Stewart Jackson - who gave up their posts by walking through the 'yes' lobby.
Mr Holloway denies his actions have undermined the Prime Minister and said he still believes David Cameron is doing a good job.
Ministers are of course trying to put a positive spin on the outcome of last night's vote.
Today the Education Secretary Michael Gove insisted the result was not a "humiliation", or evidence of a split in the party.
In fact he went as far as to say the Conservative party is "united as never before" on Europe.
It's an extraordinary claim given David Cameron has suffered the biggest ever rebellion against a Conservative Prime Minister over Europe.
Bloody nose
To put it in context the revolt was double that suffered by John Major in the 1990's.
Of course this vote isn't binding and the government easily won.
One hundred and eleven MPs voted for the motion but almost four times as many - 438 - backed the government.
But there's no doubt the result was a bloody nose for David Cameron and a clear sign of unrest on his backbenches.
The fact is MPs who rebel often get the taste for it - there could be trouble ahead for Mr Cameron.