Regional airports urge Osborne to cut passenger duty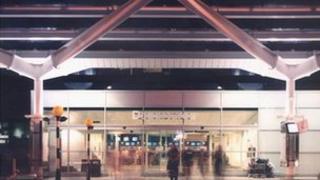 These are dark days at Britain's regional airports.
Their passenger numbers have been falling for two years now.
A flat-lining economy does not exactly encourage potential travellers to flex their wings.
So eight airports and three airlines have banded together to urge the Chancellor to use his Autumn Statement at the end of next month as an opportunity to reduce the rate at which their passengers pay Airport Passenger Duty.
You can read their letter here.
'Congestion charge'
They want the duty at London's airports to remain unchanged, like a 'congestion charge', to encourage airlines to switch services to regions which have the capacity to ease the burden on the capital's busy terminals.
I took a return trip between Birmingham and Belfast. Both are UK airports so I paid the basic £12 rate of APD each way.
But for the longer flights on Birmingham's departure screens that morning, the APD was much higher: for 3,500 mile flights to New York and Toronto each passenger paid £60.
And for the 5,000 mile journey to Cancun, Mexico, it was £75 each, a significant 'extra' for a family heading off for some half term sunshine.
For business and premium class fares, the duty could be anything up to twice these amounts.
Avoiding duty
When I arrived in Belfast, my story took a surprising turn.
Continental Airlines recently threatened to switch their New York-Belfast service to Dublin: the improved cross-border motorway meant passengers could head south and avoid UK airport duty.
That was the cue for the Northern Ireland business and political communities to lobby the Chancellor for a cut in APD.
The result: from next Tuesday, passengers flying from Belfast to New York will pay just £12 in duty, half what I paid on my short return trip.
Inevitably, from mainland regional airports, came a chorus of "me too's".
Paul Keyhoe, the Chief Executive of Birmingham Airport found some ironic humour in it all.
He told me: "Northern Ireland is linked by land to another country. We are too: it's called London."
This, he said, was a golden opportunity for George Osborne to make good on his promise to 'rebalance the economy'.
Tax subsidy
But Chris Crean, the Midlands spokesman for the environmental campaign, Friends of the Earth, was not impressed.
He said: "The aviation industry already gets a substantial subsidy from the tax man because it does not pay VAT on fuel or on the sale of aircraft."
The other big problem for the airports is that APD nets the Exchequer more than £2bn per year. Unless the Chancellor is prepared to stem the flow of a significant revenue stream, some parts of the UK will remain more equal than others.
Let me know what you think about this through the comments section below.
It will be one of our main talking points on this week's Politics Show from 12.00 on BBC One this Sunday, 30 October 2011.