Youth clubs suffer as council cuts force their closure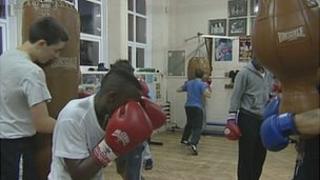 New figures obtained by the Politics Show suggest our councils have significantly cut the amount they spend on youth services.
That's hardly surprising given the funding cuts local authorities have had over the last year.
But there is concern that young people are bearing more than their fair share of those cuts.
In Middlesbrough, the council is consulting on the possible closure of five youth and community centres.
North Ormesby is one of those under threat.
The staff there, and the young people who use the centre, are outraged at the plan.
Spending cuts
The children the Politics Show spoke to at the club believe there will be little left for them to do if it shuts.
They expect more of them will end up on the street, and in trouble.
The council says it has little choice though because of the need to find £14m of savings.
And a survey by the trade union Unite suggests many councils are already spending less on youth clubs.
The research compared council spending on youth services for every 13 to 19 year old last year to the projected spend this year.
In Sunderland the figure had dropped from £118 to £91; in Northumberland it had been cut from £49 to £36.
Darlington saw a reduction from £98 to £69 per head and Cumbria saw a cut from £166 to £135.
And even before the latest cuts Middlesbrough Council had cut its spending from £260 per teenager last year to £221 this year.
But might there be another way of replacing that spending?
Another club in the Easterside area of Middlesbrough is still going despite receiving little in the way of public funding.
Instead, it survives through a combination of donations from the public and business.
Sam Scott, who runs the club, said: "Everyone's come forward and donated what they can whether it be money, cheques, even trips out and things like that.
"If we can do it, I can't see why other youth clubs can't follow the same path."
More investment
That's something the government is keen to see more of.
Ministers also point to their National Citizens' Service for 16-year-olds as another investment they are making in alternatives for young people.
It provides six week placements for teenagers.
But Unite says that service is in danger of moving millions of pounds away from traditional youth services.
Mike Routledge, the union's regional officer, said: "There is a concern that money will be diverted from projects which are working well at the moment, to try and give young people six weeks of contact when at the moment they have got that contact all year round."
The protest on youth service cuts will go to Westminster on 25 October when young people and staff gather to lobby MPs.
The Politics Show will be debating what impact the cuts are having on young people on BBC One at 12pm on 23 October.