Firm criticised over care home fee plan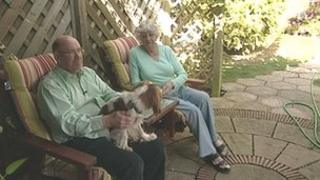 A Norfolk company claiming to help people avoid care home fees has been called into question for misleading clients.
Steve Long, who runs the Universal Group, charges about £3,000 for setting up a trust which he said would protect personal assets against charges for care.
But a BBC investigation has found that there is no guarantee that it will work.
In England anyone with assets of more than £23,000 in savings and property is expected to pay for care in older age.
The average cost is about £50,000 a year for residential care.
Five years ago, Bernard and Christine Dillon, from Ipswich, were told by Mr Long that he could help them avoid paying fees and protect their assets for their family.
'Specialist niche'
Mr Dillon said: "He said… you could get out of care home fees by setting this trust up… that would stop the council from getting their hands on your money.
"And when he came he said it would be £3,000, which is a lot of money. But in the end he managed to talk us into agreeing with him."
At one of the seminars he holds in hotels around the country Mr Long told an undercover BBC Inside Out reporter: "I'm here to show you how to avoid care home fees… it's a specialist niche - there are probably five of us in the country that deal with it."
He went on to claim that, as long as the client had not already been assessed by the local authority, using a trust to avoid care fees was "straightforward".
Caroline Bielanska, a solicitor specialising in wills and administration of estates, said: "If you put your assets into a trust deliberately designed to avoid care fees then the local authority can treat you as though you still own the assets."
It is the local authority who assesses and decides whether an individual should pay for care.
The Local Government Association told BBC Inside Out: "If a transfer of assets happened more than six months before application for assistance, the local authority can still treat it as a deprivation of assets.
"Intentionality would be the key factor… if someone enters into an arrangement deliberately designed to avoid paying care home fees that's a pretty solid statement of intent."
When the BBC tried to contact Mr Long to put the allegations to him it was told he was out of the country.
He was in fact giving seminars in Southampton and Gloucester. He later told Inside Out that some mistakes might be due to "ear congestion".
Inside Out later confronted Mr Long who then said: "All I can say is the trust we use has a 100% track record.
"We have documentary evidence of local authorities accepting that the trust works. We are one of a number of firms that market things in a similar way."
Universal Asset Protection also said that trusts set up at the right time and in the right circumstances were effective.
It said the fees were competitive. It said it endeavoured to act in its clients' best interests and claimed 98.5% customer satisfaction.
The full report can be seen on Inside Out East on Monday at 19:30 BST on BBC One.