Can the north afford the new High Speed 2 rail link?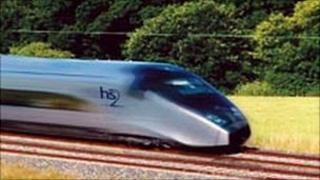 A war of words has broken out over the cost of the proposed new high speed rail link between London and the north of England.
Critics of the High Speed 2 project say the estimated total cost of £32bn is too high, considering many areas will not benefit directly from the service.
There are plans to build the first stage of the HS2 link from London to Birmingham by the year 2026.
The line would then extend north in a 'Y' shape, with a north-western branch routed to Manchester and a north-eastern branch heading to Leeds by 2032/33.
Job creation
It is estimated the new high speed link would shave an hour off the journey time from Leeds to London - from approximately two hours 20 minutes at present - to just 80 minutes in the future.
Supporters include the Conservative MP for Pudsey, Stuart Andrew, who chairs the all-party parliamentary group on High Speed Rail.
Mr Andrew claims that one million jobs could be underpinned by investment in high-speed rail.
The million jobs figure comes from a study by Arup and Volterra for the Core Cities Group - an alliance of local authorities from England's eight largest cities outside of London.
The HS2 proposal has already attracted considerable opposition from residents along the first stage of the earmarked route between London and the West Midlands.
Now campaigners are focussing on the cost of HS2, with claims it will cost every family an average of £1,000.
A new website entitled - What is High Speed Rail costing you? - has been launched.
It suggests the money could be better spent elsewhere at a time of public spending cuts.
Big decision
The final decision on whether to give the green light to the HS2 project will be taken by the new Transport Secretary Justine Greening.
Ms Greening recently told a committee of MPs: "To my mind, when you look at what high-speed rail has brought to other countries it's impossible not to see the benefits.
"It's absolutely right to look at HS2.
"I recognise what a big decision this will be and also recognise there are many views on this and I will take great care on how I look at them."
The question now is whether the government can justify the cost of creating a new age of the high speed train.