Benefits of university outweigh cost, say students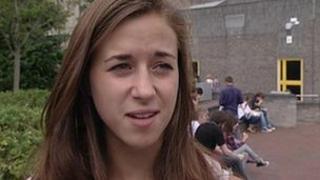 About 75% of students in central southern England say the benefits of going to university outweigh the costs, despite tuition fee rises.
Just 10% of 1,009 students questioned across the region, in a ComRes survey for BBC Inside Out, said the increase in fees had put them off university.
Fees at Reading, Southampton and Oxford will be £9,000 from 2012.
Bournemouth University will charge £8,200 for most courses from next year, Portsmouth £8,500 and Solent £7,800.
Annual tuition fees at English universities will rise up to a limit of £9,000 next year, whereas under the current system students pay about £3,000 a year for their degrees.
Mary Barlow, a prospective university student from Winchester, Hampshire, said: "The whole point of uni is that I get a degree that means I can have a successful career.
'Horrible cost'
"At first it [the fees] made me not want to go to university at all but I decided it was better to just go for it and I'm going to be able to pay it back, hopefully. And despite the horrible cost, I'll get a degree which means I'm going to get an OK job - hopefully."
Almost half (49%) of those questioned in the survey said the financial burden of going to university was too much for them.
Faarah Hirabe, an A Level student at Oxford Spires Academy, said: "I don't come from a wealthy family or background so it would be hard for me to raise that kind of money."
But Hannah Cusworth, a recent University of Oxford graduate, said: "Because you don't have to pay anything upfront and it's all dependent on when you're a graduate and hopefully earning lots of money, I think it is attainable for anyone."
Philip Rogerson, careers director at Sherborne School in Dorset, has visited all of the 120 universities across the UK.
Mr Rogerson said: "Ultimately value is very much an individual judgement but I do think universities should give clearer evidence of what they are delivering in terms of teaching."
Inside Out South is broadcast on BBC One South at 19:30 BST on Monday and nationwide on BBC iPlayer.