Charly Coombes and the New Breed headline Upstairs Oxford at the O2 Academy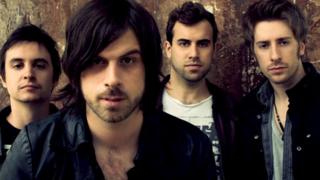 Charly Coombes and the New Breed will headline the next Upstairs Oxford gig at the O2 Academy in association with BBC Introducing in Oxford.
The night of local music on Saturday 29 October also features Tamara & The Martyrs, A Genuine Freakshow, Samuel Zasada and ToLiesel.
Charly Coombes said: "It'll be our last show in Oxford for a couple of months, so we're really up for it, it should be a great night."
The band formed in 2009, though Charly previously played in rock band 22-20s and occasionally contributed to brother Gaz's band Supergrass.
Charly Coombes and the New Breed aim to release their next EP, Noise Control, in February.
Charly said: "We're really looking forward to the gig, and with it being around Halloween we're going to try and get people dressed up.
"I love the Oxford scene, I love all the guys and bands involved. There's so much passion.
"I don't know what it is about Oxford. It's quite a middle-class area with a lot of bored kids going through school and certainly when I was growing up everyone wanted to get into bands.
"Oxford has that still and it's a really healthy scene."
Special guests
Tamara Parson-Baker, lead singer of blues rockers Tamara and the Martyrs, said her band would also celebrate Halloween at the gig.
She added: "Expect the Martyrs to look even more undead than usual.
"We've been working on a lot of new material for our debut album, so we're looking forward to playing some new stuff and songs from our EP that came out in June this year."
The gig also features special guests A Genuine Freakshow.
The Reading-based seven-piece have been championed by BBC Introducing in Berkshire.
Every month a selection of local talent plays the regular band nights at the O2 Academy, with highlights featured on BBC Radio Oxford's Introducing programme.