Air India: 'Creeping delays' stranded plane at Gatwick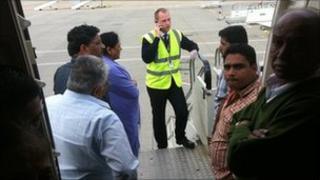 Passengers ended up sitting on a plane on the tarmac at Gatwick Airport for more than eight hours because of "creeping delays", Air India has said.
Their flight from Mumbai to Heathrow was diverted to Gatwick at about 08:00 BST on Sunday because of fog. It resumed its journey at 17:00 BST.
Air India said the weather, take off slots, and crewing hours caused delays.
The airline said if it had been known the delay was to be several hours, passengers would have been taken off.
'Late takeoff slot'
A worker at Air India said employees were not supposed to talk to the press but she wanted to give the airline's account of what happened.
She said: "The plane was diverted and we were given to understand that the weather would clear in one and a half hours.
"It was one and a half hours and they would be back in 90 minutes, so it didn't make sense to deplane the passengers at that time.
"Then at around 11.30am, we heard the slot was only in the afternoon, at 1.30pm.
"By that time, we decided the crew was not supposed to operate beyond a certain time, so we rushed a crew from Heathrow. It took them time to reach Gatwick."
'Water provided'
She said the crew's flight time was 10 hours before the plane reached Gatwick and would have been 12 hours if the aircraft had gone straight to Heathrow after the diversion.
The slot allocated at 1.30pm was for the plane to take off from Gatwick, she added.
She said: "It was all circumstances. It was creeping delays. If we had known from the beginning, we would have taken them [the passengers] off."
A spokeswoman for Gatwick Airport said airport staff did everything they could to help.
She said: "The airline constantly refused to take the passengers off. It's up to the airline what they choose to do.
"If they had allowed them off, the passengers would have come into the terminal. We would have helped with their welfare.
"We did everything we could while they were at Gatwick. We can't do anything with the passengers if they don't disembark."
Police called
She added: "We went over and above what we should do. We gave them water. They didn't want us to provide food because they used their own caterers who are at Heathrow."
She said NATS, the national air traffic control service, was responsible for allocating the take-off slot from Gatwick. Nats has not yet commented.
During the delay, Sussex Police were called to the flight to prevent a breach of the peace as tempers among passengers flared.
Passengers who were on the plane said there was no food apart from crisps and Coke.
They said they were given a note of apology when they eventually disembarked at Heathrow.
Some have said they would seek compensation.