Lasers shone at landing aircraft at Exeter and Newquay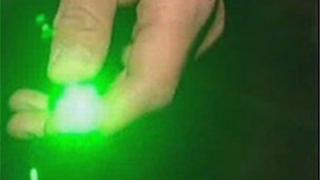 Two passenger planes - one over Exeter, Devon, and one at Newquay, Cornwall - had laser beams shone into their cockpits on Friday night.
A Thomson Airbus from Corfu with about 180 people on board was struck by a beam while it was coming in to land at Exeter at about 20:00 BST.
A Flybe plane from Gatwick with more than 60 on board was hit at Newquay during a descent at 21:17.
They landed safely but the pilots could have been blinded, police said.
Police said the aircraft at Exeter was on final approach, low to the ground and over the city.
'Crashed aircraft'
The aircraft was about three miles (4.8km) out from the runway when the pilot reported a "blinding light", Exeter Airport said.
Airport spokesman Stephen Ayres said: "The captain was disturbed by it, even though he landed the aircraft safely."
A report had been filed with the Civil Aviation Authority, he added.
The beam was reported as coming from a sports ground in the Whipton area, on the other side of the M5 motorway from the airport, police said.
The force helicopter was scrambled to find the source of the beam.
Commenting on both incidents, Ch Insp Brendan Brookshaw, of Devon and Cornwall Police, said: "Potentially we could have been talking about a crashed aircraft.
"We don't want this to develop into a pattern of behaviour."
Police treated such incidents as a possible prelude to a terrorist attack, he added.
He said: "Obviously a laser [striking an aircraft] could be a prelude to a missile attack.
"We look at it with that level of seriousness."
People shining lasers at aircraft faced up to five years in prison under the Civil Aviation Act, he said.