Ed Balls drawn into Norwich City clash in House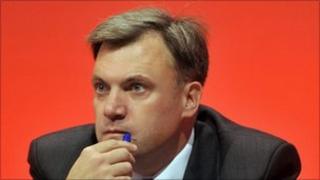 The devotion of shadow chancellor Ed Balls to Norwich City is legendary... well, no secret anyway, but it doesn't often surface in the House of Commons.
During Labour's debate on the economy Mr Balls rose to a challenge laid down by the Conservative MP for West Suffolk.
Matthew Hancock goaded the aptly-named member for Morley and Outwood.
Mr Hancock kicked off, saying: "The shadow chancellor is famous for being a supporter of Norwich City Football Club, so will he join me in welcoming the decision to break ground on dualling the A11 - an investment project that did not get the go-ahead under Labour and is happening under this Conservative government?"
Ed Balls hit back: "I think the honorable gentleman got the name wrong. He does not mean Norwich City - he means Premiership Norwich City, which is more than one can say for any football team in Suffolk.
"I will back his campaigns to stop the cuts and to spend more, and I fully support the dualling of the A11.
"At last some Conservatives have persuaded some Conservative councils to do the right thing about these proposals, which is very good."
One nil?
'Breaking new ground'
Fellow East Anglian Elizabeth Truss, Conservative MP for South West Norfolk, tried to hoof it up the field adding: "The right honorable gentleman has talked about infrastructure and the A11.
"Labour cancelled the road-building programme, whereas we are breaking new ground on the A11.
"In addition, so much red tape was put in place that we are now 83rd in the world for regulation.
"Does he think that is helping small businesses in our country?"
But having warmed to his theme, Mr Balls was unstoppable by this time, and put another in the back of the net: "To be fair to the honorable lady, she is half on-message, as she was back in January when she called for national police cuts, but not in Norfolk.
"That is little better than her neighbour over the border, the honorable member for West Suffolk.
"I am in favour of the dualling of the A11. I personally wish we had done that, given that we did a lot of road-building and investment, but for some reason Norwich City season ticket holders did not have a strong enough voice in this House.
"Perhaps Mr Charles Clarke is to blame."
To be fair to the former home secretary and Labour member for Norwich South, he was key to securing the A11 development - in a cross-party allegiance with Richard Spring, the former Conservative MP for West Suffolk.
Whatever happened to team spirit?