85% of private rents in South West 'unaffordable', says Shelter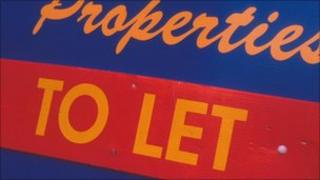 About 85% of private landlord rents in the South West are unaffordable, a housing charity has said.
In a new report, Shelter said that on average, 55% of rents were "unaffordable" across England.
The Private Rent Watch report said Exeter and Torbay in Devon, and Poole and Bournemouth in Dorset, were the four most unaffordable areas.
It added that private rents were more affordable in Bristol, Birmingham and Manchester than in north Devon.
The report looked at housing in Cornwall, Devon, Dorset, Gloucestshire, Somerset and Wiltshire.
Bath and North East Somerset was the fifth most expensive area of the 29 local authorities in the region, the report said.
The most affordable places to rent were the Forest of Dean in Gloucestershire and North Somerset, it added.
The Shelter report analysed two-bedroom homes because they were so widely found and used Valuation Office Agency and Office for National Statistics data.
Spending more than 35% of median average local take-home pay on rent was the measure of affordability the charity used.
Recent research by Shelter said that 38% of families with children who were renting privately had cut down on buying food to pay their rent.
It called for government to take urgent action to stabilise an "out of control" rental market and develop policies to bring rents more in line with average earnings.
Shelter chief executive Campbell Robb said: "We have become depressingly familiar with first-time buyers being priced out of the housing market, but the impact of unaffordable rents in South West is more dramatic.
"With no cheaper alternative, ordinary people are forced to cut their spending on essentials like food and heating; or uproot and move away from jobs, schools and families."
Housing Minister Grant Shapps said that government had curbed red tape "which would have pushed up rents and reduced choice".