Region's MPs lobbied over Dogger Bank wind farm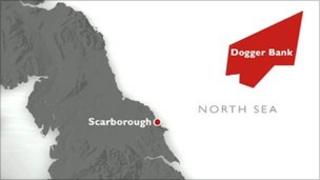 MPs from Yorkshire and the Humber are being asked to support plans for a 2,600 turbine wind farm which could be built 100 miles off the east coast.
A delegation representing 22 councils is travelling to parliament later to lobby MPs about the proposed 3,475 sq mile (9,000 sq km) site at Dogger Bank.
Delegates claim offshore wind farms could create 115,000 jobs in the UK.
The Dogger Bank wind farm is licensed for probable construction and could supply 10% of the UK's electricity.
In July 2010, Energy Secretary Chris Huhne identified Dogger Bank as a prime area for offshore development.
'Strong arguments'
Tom Fox, vice chairman of the cross-party local government Yorkshire and Humber organisation, who is leading the delegation to Westminster, said it was vital MPs played their part in promoting the proposed offshore wind farm.
"They can lobby, they can engage ministers with their knowledge and they can put forward strong arguments as to why the Yorkshire and Humber region should be supported by the wind farm industry," he said.
Mr Fox said if the offshore wind farm was given the go-ahead, it would have a "massive" impact on the region.
"It's about jobs, it's about the economy and it's about regeneration," he said.
"North Yorkshire is a low-pay economy and we really need to bring some specialist industries in to raise the profile of the region."
A four-company consortium, Forewind, which includes Npower and Scottish and Southern, together with Norwegian energy companies Statoil and Statkraft, has already begun work to secure the necessary permissions to develop the Dogger Bank site.
A two-phase consultation process is currently under way into the consortium's plans and is due to end in 2012.
If given the go-ahead, construction work is likely to begin at Dogger Bank in 2014.