RSPB disputes Chilterns red kite warnings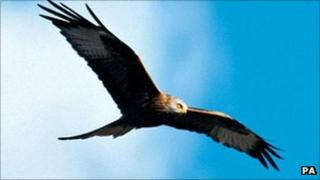 The RSPB has hit back at claims that increasing numbers of red kites are having a negative effect on smaller animals in the Chilterns.
Cathy Rose, of the Chilterns Conservation Board, told BBC Radio 4's Today programme that rabbits, guinea pigs and smaller birds could be next on the menu if the public keep feeding the predatory birds.
Red kites were reintroduced to the Chilterns in 1989 and their numbers have proliferated from 93 birds to more than 600 breeding pairs.
Gemma Butlin, from the RSPB, said the increasing numbers were to be celebrated and that there was "absolutely no evidence to suggest that red kites have had an impact on the population of any small birds".
She said: "I've never heard of a case of a kite taking a pet rabbit or guinea pig to date.
"They are big for a kite to take and there are much easier meals around in the countryside."
Balance of nature
In June, Oxfordshire students reported red kites were taking their food.
One student at Icknield Community College in Watlington said he was scratched by a bird as it swooped down and tried to grab his lunch.
The University of Reading's School of Biological Sciences recently set up a questionnaire to measure how many people fed red kites in their gardens. Student Melanie Orros is writing a PhD on the subject.
Ms Rose argued that the feeding of the birds was upsetting the balance of nature in the Chilterns.
She added: "If we keep adding food to that balance then they will keep on breeding and we could potentially end up with more birds than the area could naturally sustain.
"Then we start to get more issues with the birds taking opportunities to be predatory if there's not enough food lying around for them.
"Potentially people's pets, rabbits and guinea pigs in their gardens [and] possibly some of the ground nesting birds out in the wider countryside that the RSPB and other organisations have been trying to increase in numbers."
Ms Butlin responded by saying the red kite had made a "remarkable comeback... thanks to a huge conservation effort by the RSPB and others".
She added: "Red kites are opportunistic hunters and they feed mostly on dead animals.
"They do capture some live prey, such as young gulls and crows and small rodents, but the most common live prey they eat is earthworms.
"Small birds are generally too quick and agile for red kites to catch.
"They are not the most manoeuvrable birds and could almost be described as lazy hunters.
"They are not designed to catch agile prey, and are much better suited to scavenging for carrion."
But Ms Rose also said neighbours were increasingly falling out over the issue.
"There are neighbourly disputes starting to crop up where one neighbour really enjoys seeing the kites but the other surrounding neighbours don't enjoy the byproducts of having lots of birds over their gardens," she said.
Red kites were formerly widespread and common in the UK, but they were gradually killed off by farmers and gamekeepers by the end of the 19th Century.