BBC job cuts: Local radio, television and online affected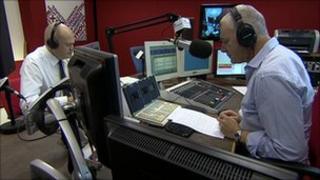 Nearly 400 jobs are set to go in local broadcasting across England as part of the BBC's plan to reduce its budget by 20% over the next five years.
Local radio stations will bear the brunt, with 280 posts under threat.
It will mean stations sharing some afternoon, evening and weekend programmes - with one pan-England programme from 19:00 until 22:00.
Another 100 jobs will go in regional current affairs, online, local weather and regional news.
The BBC licence fee of £145.50 was frozen in the government spending review last year until 2016-17.
In order to save a total of £27m across the English regions, local television news will have fewer bulletins and neighbouring regions will share current affairs programming.
'Irreparable damage'
An estimated £500,000 will be saved by cutting 25% of the budget for English regions senior management.
Across the entire corporation 2,000 jobs could go, with some of the money saved reinvested in new programmes.
Unveiling the cuts under the banner Delivering Quality First, Mark Thompson, director general of the BBC, said the changes would not be easy, but would lead to "a smaller, more focused organisation", although he told staff "I don't think we could do this again".
The National Union of Journalists (NUJ) and technicians' union Bectu have condemned the proposals, with Bectu general secretary Gerry Morrissey claiming the plans should have been called "destroying quality first".
Both unions said the proposed cuts across English regional broadcasting struck at the core of the BBC's public remit.
The NUJ said the BBC's proposals risked causing "irreparable damage to the best journalism in the world".
NUJ spokesman Keith Murray said it was "outrageous" that 280 local radio jobs could go.
"Cutting and merging programmes... and having a pan-England programme is pointless and in reality would mean 'local' radio is no longer local," he told BBC News.
Bectu said there needed to be a "really big debate" because local audiences deserved quality at a local level.
'Difficult messages'
"Mark Thompson talks about a roller-coaster we can't stop, but we have to because this has got to go to proper consultation," a Bectu spokeswoman said.
Controller of English regions David Holdsworth said finding savings of 20% was "never going to be easy", but despite "difficult messages", the importance of serving local audiences had been recognised by the corporation.
"There are no proposals to close local radio stations or daily television services, and some of the ideas to work more closely with network colleagues mean our journalism should get a higher profile in future," he said.
"In local radio we have set out to protect the programmes that are most distinctive and attract the lion's share of the audience."