BBC programming move from Birmingham 'a slap in the face'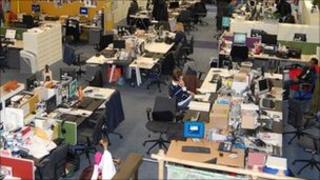 The BBC's decision to move factual programming out of Birmingham is a "slap in the face" for the city, the council leader has said.
Network shows such as the Hairy Bikers, Coast, Gardeners' World, Points of View and See Hear will move from the Mailbox studios to Bristol.
Radio rural affairs programmes including Farming Today and Ramblings will also go to Bristol, while music programmes including Big Band Special and The Organist Entertains will move to Salford.
Councillor Mike Whitby said Birmingham and the Midlands was being "marginalised".
'Difficult decisions'
"We literally have a formidable population, we're growing the media sector, it's already 10% of our economic output, we have the skills, we have the professionalism," he said.
"I think it's only right that the great population centres have great media centres and that is being eroded."
Staff were told about the changes in a series of meetings as the BBC spelt out proposals to cut 20% from its budget over the next five years.
The BBC has said "over 100 [Birmingham] posts will be impacted by these changes" and said about 60% of people would be offered jobs in Bristol.
Many BBC staff who have worked on programmes in Birmingham - at the Mailbox and previously at Pebble Mill - for many years now face having to move to Bristol if they want to remain working on the same shows.
See Hear director Ruth Cook said she was "gutted" by the news.
"My main sadness is breaking up the Birmingham community. A lot of us have worked here together for years. It's really sad, we've got to make a decision about where our future is going to be.
"I haven't got family ties to keep me in Birmingham but it's sad for colleagues who have to make those really difficult decisions," she added.
'Hugely diluted'
Oliver Clark, series producer for the Hairy Bikers said: "I'm not shocked because I think we all knew it was kind of in the water, but really saddened."
The proposals also have an impact on five local radio stations across the West Midlands.
The corporation said about 41 posts could be closed and there were proposals for neighbouring stations to share content at off-peak times.
Michelle Dawes, the National Union of Journalists' representative for the local station in Birmingham, BBC WM, said: "This would mean that local radio as we know it is going to be hugely diluted."
David Holdsworth, controller of English Regions for the BBC, who is himself based in Birmingham, said: "Of course today's news is sad for staff in Birmingham. Saving 20% was never going to be easy.
"But we have taken these steps to ensure that we can continue to deliver high quality programmes for our audiences in Birmingham and elsewhere in the country.
"The BBC currently employs over 600 people in Birmingham; after these changes we will still employ over 450 staff here."
'Eminently sensible'
Mr Holdsworth said BBC Birmingham would still be home to The Archers and highlighted the corporation's investment in drama through its partnership with the University of Birmingham to make Doctors and Land Girls.
Other media organisations have given mixed reaction to the news.
Jonnie Turpie from Maverick Television said he thought "it was a bit of a crying shame for not only the BBC and its talent base and its staff but also for the city of Birmingham and beyond".
But David Lloyd, BRMB programme and marketing director, said: "I think the review overall is eminently sensible owing to the current economic climate.
"Across BBC local radio I think the cuts are entirely possible, there is significant scope to run the BBC local radio more efficiently and provided the right posts disappear, the operation is sufficiently large enough that the listener should not suffer, he added.