BBC factual programme-making axed in Birmingham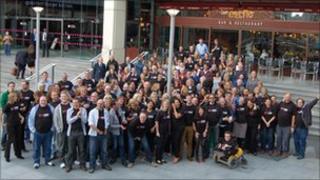 BBC national factual programme-making is to leave Birmingham for Bristol.
Programmes such as the Hairy Bikers, Countryfile and the coverage of the RHS flower shows will move from BBC Birmingham's Mailbox retail centre.
The measure was outlined as part of a briefing to BBC staff about changes to the way the organisation is run.
The BBC press office said: "Over 100 [Birmingham] posts will be impacted by these changes", and about 60% of people would be offered jobs in Bristol."
Staff were told Birmingham's national factual programmes would move out of the city from August 2012.
The press office said no factual jobs would remain in the Mailbox, although a few factual staff working in post production would be offered roles at the BBC Drama Village based at Birmingham University.
A report on the changes states: "Factual programming for BBC television and Radio 4 would be moved out of Birmingham and consolidated largely to Bristol, though television production investment with independent producers in the Midlands would increase.
"Substantial network television drama (Doctors, Land Girls) and radio drama (The Archers) would continue in Birmingham alongside the BBC's local and regional services."
Those staff moving to Bristol will be based at the BBC's broadcasting complex in the city, on the Whiteladies Road.
'Makes sense'
The BBC's controller of factual production, Tom Archer, said: "Bristol is the largest centre of documentary and factual in-house television production outside London and is, of course, home to the jewel in the BBC's television crown, the Natural History Unit.
"A world-class independent production and post-production centre has grown up around it.
"It simply makes sense to combine the strengths of Bristol's factual television programme-making with Birmingham - and to locate it where we have the strongest base.
"By the end of 2012 we plan to transfer the Birmingham factual slate to Bristol, as part of our larger plan to grow Bristol and Wales as major centres of excellence around documentaries and features.
"We will also explore ways to develop greater collaboration between the two centres."
BBC Director General Mark Thompson unveiled details of the cuts across the BBC - branded Delivering Quality First (DQF) - in an address to staff earlier.
Birmingham and the wider West Midlands area were particularly hard hit as it was announced local radio stations will also face cuts.
BBC WM has been told 11 posts could go at the station.
It is thought about seven posts will go at BBC Radio Stoke and eight at BBC Hereford and Worcester.
BBC Radio Shropshire will lose about eight posts and BBC Coventry and Warwickshire will lose about seven.
Staff were told that voluntary redundancies would be sought at first and the number of posts that needed to be lost could increase or decrease, depending on whether the person coming forward was a journalist, manager or senior manager.
Staff at Midlands Today were also told the programme would only have one weather presenter with the weather staffed partly from a regional hub in Nottingham.
Bulletins at 15:00 BST and on Saturday lunchtimes will go and the programme will share more of its resources with its national television services.
The BBC's Inside Out programme across England also faces losing posts, with more content being shared among regions. There is no regional breakdown of job losses at this point.
Michele Paduano, NUJ representative for Midlands Today, said: "My first thought is it's a sad day for the BBC.
"There's no way we're going to maintain the same level of quality with this level of cuts.
"The public will notice the difference."
At the Asian Network, 82 posts would be reduced to about 40 to 45. These would be weighted equally across London and Birmingham, a BBC spokesperson said.
BBC Birmingham has been based at The Mailbox shopping centre since 2004.
For 32 years before that it was based at Pebble Mill, in Edgbaston, but in early 2004 production started moving to the Mailbox in the city centre.